'Finding Dory' Introduces Two New Characters Voiced By Ty Burrell And Kaitlin Olson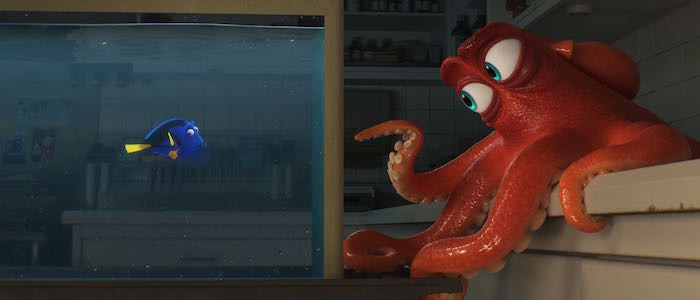 Pixar's Finding Dory will feature several returning voices from Finding Nemo, including Albert Brooks, Willem Dafoe, and, of course, Ellen Degeneres. However, the upcoming sequel is also filled with new characters voiced by an ensemble of talented actors and actresses, including Idris Elba, Dominic West, Diane Keaton, Ed O'Neil, and Eugene Levy.
But we're not talking about them right now. A new piece of concept art from the upcoming sequel has revealed Bailey and Destiny, a beluga whale and whale shark voiced by Modern Family's Ty Burell and It's Always Sunny in Philadelphia's Kaitlin Olson. Check out this first look, as well as some additional details, below.
Our first look at Bailey and Destiny comes to us via Entertainment Weekly, who also revealed just how these two characters (who were not featured in the first trailer) figure into the plot of the film:
Set six months after the first film ends, Finding Dory sees the forgetful blue tang (voiced again by Ellen DeGeneres) on a mission to find her long-lost parents. Along the way, she visits the rehabilitation center at marine life facility where she meets Burrell's snub-nosed beluga whale, Bailey, and his pal Destiny, a sweet whale shark voiced by It's Always Sunny in Philadelphia actress Kaitlin Olson.
So it's been been 12 years for us and only six months for those fish? That's certainly interesting... and slightly disquieting because that means this entire cast of characters is totally dead in real time.
Although we knew some of those details already, the actual plot of Finding Dory is finally coming into focus and it feels like classic Pixar. This isn't the first time they've made a movie about a group of misfits who find each other and help one another grow, but it's worked before! Heck, it worked with Finding Nemo.
And since everyone wants to put faces to those names, here's that concept art. For those who don't know their basic marine biology, Burrell's Bailey is the little fellow with the big head and Olson's Destiny in the large, spotted creature (who looks awfully small for a whale shark, which may indicate that she's very young).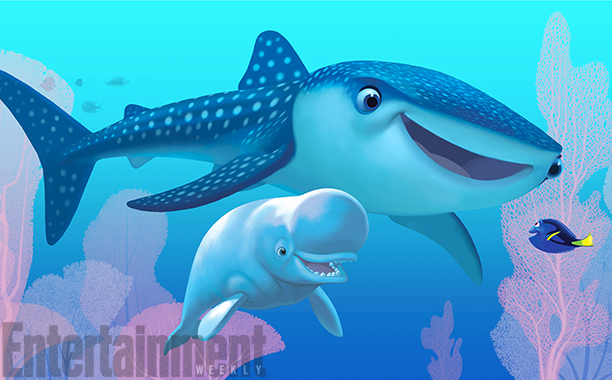 EW also nabbed a few quotes from the actors themselves, with Burrell explaining that both characters are hanging out in marine life rehab because of certain issues:
My character isn't great at his own sonar capability, and Destiny has trouble swimming straight.
Olson also explained the dynamic between these two. It turns out that they don't necessary get along:
We totally get on each other's nerves. I like to think I'm a shark, but Bailey calls me a whale, and I make fun of his head, because it's gigantic.
Will everyone eventually learn to respect each other, discover what makes them special and unique, and come together for a warm, big-hearted finale that provides closure while leaving room for a another sequel a decade from now? Maybe. Perhaps. Probably. You'll probably be crying through the whole thing because this is a Pixar movie and these things tend to reduce everyone to big, overgrown babies.
Finding Dory is directed by Pixar mastermind Andrew Stanton and it opens on June 17, 2016.