New 'Deadpool' Photos: Negasonic Teenage Warhead Has A 'New Mutants' Uniform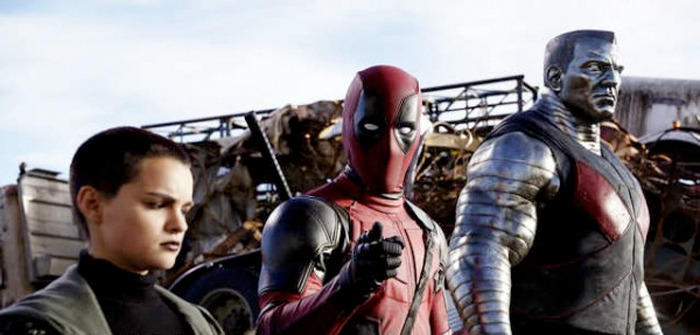 Last weekend, 20th Century Fox delivered quite the fun Christmas gift in the form of two Deadpool trailers, a green-band trailer and a preferred, raunchy red-band trailer. Plus, a couple new photos debuted yesterday as well. But if that wasn't enough Deadpool to tickle your fancy just the way the Merc with a Mouth likes, then this new batch of images from the movie might do the trick. Especially since they seem to create a link to another developing mutant-centric project at Fox.
Check out the photos and find out more below!
Here's the new Deadpool photos from Empire:
At first glance, there's nothing too exciting here. We get a new shot of Deadpool (Ryan Reynolds) with Colossus and Negasonic Teenage Warhead (Brianna Hildebrand), and it looks like Angel Dust (Gina Carano) might be in some trouble in one of the photos. But the one to really pay attention to has Deadpool sitting on a slab of concrete with Negasonic Teenage Warhead crouched under it. Who cares, right? Well, you might, since she's wearing a specially branded uniform.
This isn't the first time that we've seen the character in this yellow and black costume, but it is the first time that we can clearly see the X-Men logo on her arm, indicating a link to the famous blockbuster mutant franchise. Or in this specific case, it may actually be some kind of bridge to the New Mutants film that Fox announced just this past May.
The Fault in Our Stars writer and director Josh Boone is behind New Mutants, based on the Marvel Comics title about a group of young mutants in training at Xavier's school — some of whom ended up becoming full fledged X-Men themselves in the books. New Mutants is actually where Deadpool made his debut as well, so to have the younger mutant team debut on screen in Deadpool would be an interesting development.
This Deadpool New Mutants connection is likely just laying seeds for the future, especially since they're supposedly still working on a first draft of the movie. At the very least, it seems like Negasonic Teenage Warhead will be part of New Mutants whenever it gets off the ground, but we'll have to wait and see.
Deadpool also stars Ed Skrein as Ajax, Morena Baccarin as Vanessa Carlysle/Copycat, Stefan Kapicic as Colossus, T.J. Miller as Weasel and more. Tim Miller directs from a script by Paul Wernick and Rhett Reese, and 20th Century Fox releases the film next year on February 12th.