'Anomalisa' Character Featurettes: Meet The Extraordinary, Ordinary Leads Of Charlie Kaufman's Stop-Motion Drama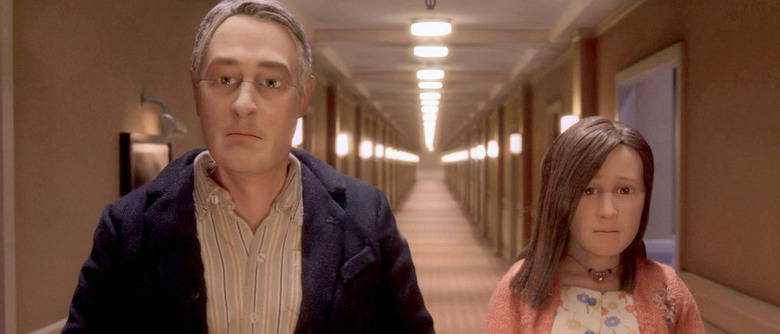 Leave it to Charlie Kaufman to take what sounds like an ill-advised gag and turn it into one of the year's most affectingly, heartbreakingly human films. Anomalisa is a romantic drama shot in stop-motion with a cast of puppets. But this isn't Team America: World Police – Kaufman and his co-director Duke Johnson play it completely straight, giving their universe a relatively realistic look.
Anchoring this unusual presentation are two extraordinarily ordinary leads, Michael Stone (voiced by David Thewlis) and Lisa Hesselman (voiced by Jennifer Jason Leigh). A pair of Anomalisa character featurettes get up close and personal with the duo, and you can watch them after the jump. 
You might expect Kaufman and Johnson to take advantage of stop-motion by crafting wacky-looking characters and fantastical settings, but Anomalisa focuses on the totally mundane. As Thewlis describes him, Michael is a "lonely" and "disappointed" man in "deep anguish." Leigh (who is having quite the winter between this and Hateful Eight) describes her own character as "very ordinary" and "incredibly self-deprecating," but unlike Michael, Lisa has "made her peace" with who she is. You don't really need stop-motion or puppets to tell a story like this, but in Kaufman and Johnson's hands it comes alive. Watch them at work  below:
Paramount is giving Anomalisa a limited rollout starting this week.
Michael Stone, husband, father and respected author of "How May I Help You Help Them?" is a man crippled by the mundanity of his life. On a business trip to Cincinnati, where he's scheduled to speak at a convention of customer service professionals, he checks into the Fregoli Hotel. There, he is amazed to discover a possible escape from his desperation in the form of an unassuming Akron baked goods sales rep, Lisa, who may or may not be the love of his life. A beautifully tender and absurdly humorous dreamscape, from the brilliant minds of Charlie Kaufman (SYNECDOCHE, NEW YORK) and Duke Johnson ("Community" episode, Abed's Uncontrollable Christmas), this stop-motion animation wonder features the vocal cast of Jennifer Jason Leigh, Tom Noonan and David Thewlis and a stirring strings-based score by Carter Burwell. The darkly comedic and surreal stop-motion journey of a man's long night of the soul, ANOMALISA confirms Charlie Kaufman's place amongst the most important of American filmmakers, and announces Duke Johnson as a major creative force.