First 'Daredevil' Season 2 Images: Elektra And The Punisher Descend Upon Hell's Kitchen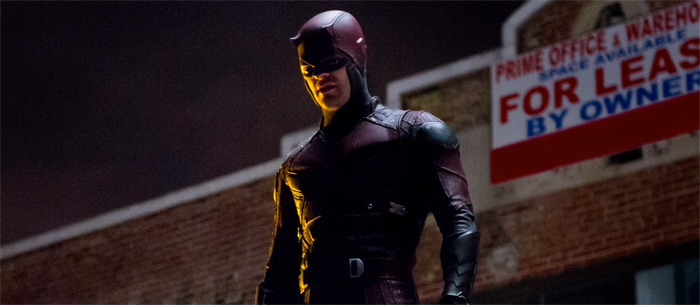 While we've been oohing and ahhing over the first look at Doctor Strange, the MCU's TV side has also dropped some interesting new snapshots. Netflix's Daredevil has just revealed its first official images, featuring two new key players for next season: Frank Castle a.k.a. Punisher, played by Jon Bernthal, and Elektra, played by Élodie Yung. Check 'em out after the jump. 
Entertainment Weekly debuted the first Daredevil Season 2 images. (Bottom scan via ScreenCrush.)
First look at Elektra in daredevil season 2 #Daredevil pic.twitter.com/HsMWErsRiJ

— Comic News (@News2Comic) December 29, 2015
According to Entertainment Weekly, the difference between Daredevil and the Punisher is not one of aim, but approach. Both want to clean up the streets of Hell's Kitchen, but the Punisher is "a merciless, binary-thinking antihero" who "uses guns instead of fisticuffs and simply murders every criminal he can find." Which spells big trouble for Daredevil (Charlie Cox), who we see chained up on the ground in front of the gun-toting vigilante. It's probably safe to assume he'll get away somehow (the show is called Daredevil, so it can't just off its main character), but you can expect he'll suffer a bit first.
The first look at Elektra, Daredevil's old flame, is less alarming. She's just sitting back in a chair, and she's not even in her signature costume. But there's more to the "lethal love interest" than meets the eye. "Matt's a deeply moral complicated guy and she's just the best bad girlfriend you can possibly have," explained co-showrunner Doug Petrie. "She does everything wrong and attractive, she's his id, the wild side. Matt is always taming his wild side. Elektra just lets it out. He's both repulsed and deeply drawn to that."
Besides introducing new characters like Elektra and the Punisher, Daredevil Season 2 will bring back Deborah Ann Woll as Karen Page (as you can see above), Elden Henson as Foggy Nelson, Rosario Dawson as Claire Temple, and Scott Glenn as Stick. There have been hints that Mike Colter's Luke Cage — fresh off of his recurring role in Jessica Jones, and ahead of his own eponymous Netflix series – could make a cameo, but so far that's just speculation.
Daredevil Season 2 premieres sometime in 2016.