The Truth Is Out There, Or Maybe Just In This 21-Minute 'The X-Files' Featurette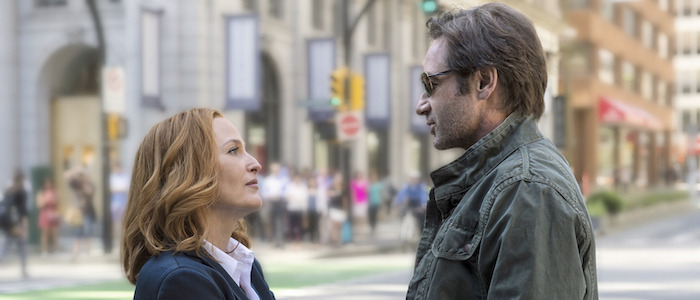 2015 was one hell of a year for revivals. Mad Max: Fury Road resurrected a long-dormant franchise with brain-melting style and grace. Creed worked against the odds to open a new and enthralling chapter in the Rocky saga. Star Wars: The Force Awakens gave fans a reason to believe in that long ago, far away galaxy once more. This year has set the bar awfully high for "new versions of things we already love." Those movies are good enough that they transcend nostalgia – you don't need warm, tingly childhood feelings to appreciate them.
So what about the upcoming revival of The X-Files? I've made my enthusiasm for the original show clear on several occasions, so I'm the exact target audience for this limited series. But will these six episodes preach to the choir and be just a tasty treat for the fans, or will it follow 2015's lead and be something really special?
This new The X-Files featurette doesn't answer that question, but it does take you behind the scenes and feature the show's cast and crew talking up the new project. You can watch it below.
This 21-minute video has two jobs: remind old school fans why they love this show and teach the young'uns why they should care about one of the best television shows to emerge from the '90s. For younger millennials, The X-Files is more famous than it is actually watched. It's mostly great, people! And it's on Netflix! Why not squeeze in a few episodes soon? It'll be nice, exciting antidote to the never-ending heart attack that is Making a Murderer.
Anyway, here's that featurette. Click play and trust no one:
The featurette features few grand revelations and few major plot details, but it does feature snippets of footage and fun chatter from everyone involved. It's just fun to see David Duchovny and Gillian Anderson back as FBI agents Fox Mulder and Dana Scully. It's just fun to see series creator and mastermind Chris Carter talking about this world again. It's just fun to hear that iconic music again. Yes, they're preaching to the choir, but man, it's nice to see The X-Files back. Whether this is successful at all for the uninitiated remains to be seen.
Perhaps the most encouraging aspect of this featurette is the focus on how the new episodes will split their time between "mythology" episodes and stand-alone "monster of the week" episodes. That was always the most fun part of the original run. Sometimes, you'd get an episode that deepened the show's mysteries and turned the screws on Mulder and Scully... and sometimes you'd just watch them go on a one-off adventure involving some kind of creature of phenomenon that gets dispatched before the credits roll. How the series intends to give both kinds of storytelling adequate representation in only six hours remains to be seen.
The X-Files will return as part of a big two-night event on January 24 and January 25, 2016.