Christopher Nolan's 2017 Film May Be A World War II Drama Inspired By Operation Dynamo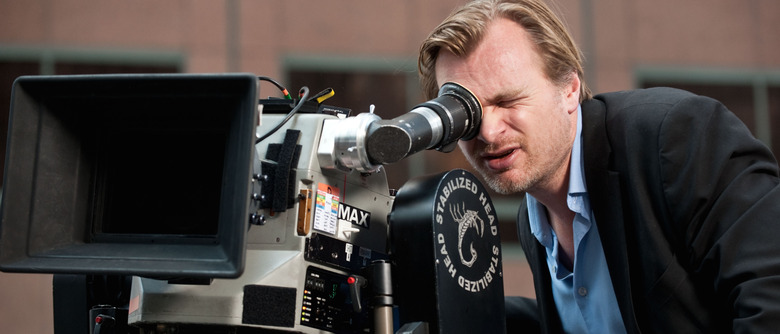 If you haven't watched this weekend's 40-minute chat with Quentin Tarantino and Paul Thomas Anderson with a big focus on the 70mm format, then you should take the time to do that. One part of the conversation has Tarantino and Anderson crediting Christopher Nolan with creating new interest in the large film format, and in their back and forth, Tarantino offhandedly mentions that Nolan's next film will also be employing 70mm as well. At the time, we didn't know what that movie may be, but now we may have some details.
A new report indicates that Nolan's next film may be a World War II drama inspired by Operation Dynamo, which saw the evacuation of the British Expeditionary Force (BEF) and other Allied troops from the French seaport of Dunkirk in May and June of 1940. Find out more details after the jump!
La Voix Du Nord in France (via The Playlist) has news of Nolan's project, pointing out that Patrice Vergriete, the current Mayor of Dunkirk, recently announced an American blockbuster would be filmed there in June of 2016 by what he called "a world famous director." And this regional newspaper has claimed to discover that this filmmaker is The Dark Knight director. Reportedly Nolan and his brother Jonathan Nolan have been secretly location scouting in the area as well, so this seems to be the real deal.
So what's Operation Dynamo? Here's how retired U.S. Army officer George Fielding Eliot described it:
"No purely military study of the major aspects of the war could do justice to the skill and the heroism of the evacuation from Dunkirk. Suffice it to say only that, when it began, members of the British imperial general staff doubted that 25% of the B.E.F. could be saved. When it was completed, some 330,000 French and British troops, together with some Belgian and Dutch forces who refused to surrender, had reached haven in England."
And if Tarantino is in the know when it comes to how Nolan plans to shoot this movie, then it sounds like we'll be seeing this Operation Dynamo drama playing out in 70mm. There's a good chance the film will also be shot with IMAX cameras since Nolan has already delivered some IMAX footage in his The Dark Knight, The Dark Knight Rises and Interstellar, the latter of which really kicked off the 70mm craze among filmmakers.
Whether this report is correct or not, Nolan's next film has already been set for release by Warner Bros. Pictures on July 21st, 2017, so we're bound to get details sometime in 2016.