VOTD: Quentin Tarantino And Paul Thomas Anderson Talk Film For 40 Minutes And It's Fantastic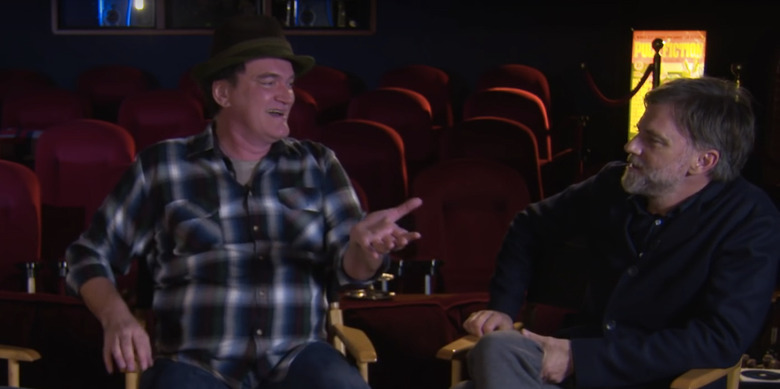 This holiday weekend sees the release of Quentin Tarantino's eighth film, The Hateful Eight. The western has a traditional theatrical release along with a special 70mm roadshow engagement that has extra footage and an intermission for the film that runs over three hours long. And now the director has sat down with another master filmmaker for a fascinating discussion.
Paul Thomas Anderson, whose film The Master got a special 65mm release as well, sat down with Tarantino for a 40-minute conversation about the fate of 70mm, the future of film in general and some of their greatest movie experiences. It's a great way to spend some time this holiday weekend.
Here's the Quentin Tarantino and Paul Thomas Anderson discussion from The Weinstein Company:
Having two revered filmmakers simply have a conversation about 70mm is great (you can find out more about it right here), if only because it helps generate interest in the format that has gone by the wayside with the advent of digital filmmaking. Barely anyone shoots on real film anymore, let alone the format of 70mm, but it's a medium that deserves to stay alive and kicking.
Tarantino attributes a resurgence of interest in the format to Christopher Nolan, who helped invigorate himself and Anderson to get back to celluloid, not to mention rallying support to keep Kodak alive so that film didn't go the way of the eight track or the VHS tape. And with the way he talks, you can tell that he's going to keep pushing film on cinephiles and colleagues.
It helps that Tarantino had The Weinstein Company update about 100 theaters so they could play the 70mm version of The Hateful Eight, because not other movies have a better chance of being released in that format. Just recently we heard that Batman v Superman: Dawn of Justice may get a 70mm release, and some classics like Ben-Hur and Lawrence of Arabia may also get re-released in the proper format as well.
But beyond 70mm, there are some great stories from Tarantino and Anderson about their theatrical experiences, including the latter talking about how Star Wars got him hooked.
Don't forget, The Hateful Eight is in theaters right now, and if you want to know where you can check out the special 70mm roadshow engagement, just go right here. But you're gonna want to plan ahead and get tickets as soon as possible, because these special showings of the movie have been selling out.