New 'The Hateful Eight' Featurette Explores The Walking, Talking Miracle That Is Samuel L. Jackson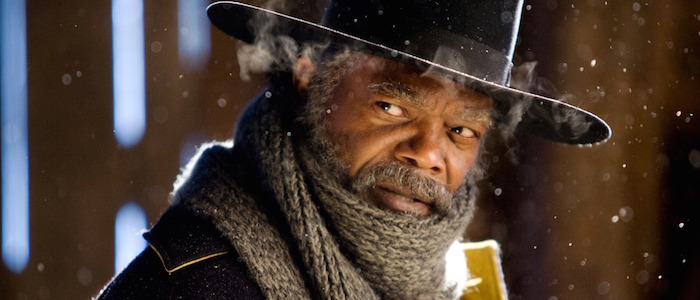 The Hateful Eight is the sixth time Quentin Tarantino and Samuel L. Jackson have collaborated on a film in some capacity and their ongoing partnership is one worth celebrating. Hell, when finished ranking every single Tarantino character, three of Jackson's performances made it into the top 20. They bring out the best in one another – no one is as good at making Tarantino's stylized dialogue sing quite like Jackson, who makes lengthy monologues and sudden violence look effortless.
Much of the marketing for The Hateful Eight has put Jackson's Major Marquis Warren, a former slave turned Civil War officer turned bounty hunter, front-and-center and for good reason: the man is an electric performer whose mere presence in a trailer sends chills down the spine. Now, the Weinstein Company has released a special video focusing on Jackson's role in the film and you can watch it after the jump.
The talking heads in this brief (but fun) video include Kurt Russell and Walton Goggins, who have nothing but nice things to say about their intense co-star. Cinematographer Robert Richardson even notes that Jackson is the only guy who can get away with giving Tarantino creative pushback. Because c'mon, who's going to sell Samuel L. Jackson "No"? You? Of course not.
The featurette also includes new snippets of Jackson in action and his Marquis Warren certainly looks like the ultimate Samuel L. Jackson character. Cocky and charming and deadly, Tarantino seems to have crafted a character who plays to all of Jackson's strengths in a big way. Is it possible for Warren to overthrow Jules Winnfield as the character of his long and storied career?
Ah, Jules. The morally ambiguous heart and soul of Pulp Fiction put Jackson on the map, won him an Oscar nomination, and provided us with enough quotable quotes to last a lifetime. His final scene in the diner is just one iconic moment after another, shifting between sharp comedy (that wallet!) and the simultaneously moving and unnerving conclusion ("I'm trying, Ringo...").
And while we're running down great Jackson moments in Tarantino movies, let's not forget about his Ordell in Jackie Brown. Although he contains so much of Jackson's trademark bravado, this low-level arms dealer is one of the more subtle villains in the Tarantino/Jackson oeuvre. Odell is a bit of an idiot who does a great job of looking hyper-competent...which only makes him more dangerous.
And then Tarantino recruited Jackson for a brisk cameo in Kill Bill Vol. 2...
...and got away with a voice over exposition dump in Inglourious Basterds by bringing Jackson in to provide the narration.
Watching Jackson in The Hateful Eight, where he plays a radical former slave with a penchant for doing harm to former slavers and Confederates, may very well give you whiplash after watching Django Unchained. His Stephen is one of the best villains in recent years, a slave who appears as a bumbling fool in public so he can get away with being the scheming, cruel and crafty right hand of his master behind closed doors. The poster says that Leonardo DiCaprio is the main villain of this film, but it's Jackson, playing a traitor to his race who will do anything to maintain his position of comfort, who steals the show.
The Hateful Eight opens tomorrow, December 25, in limited release before expanding wide in January.