'Batman V Superman' TV Spot: The Dark Knight Wants To Teach Supes A Lesson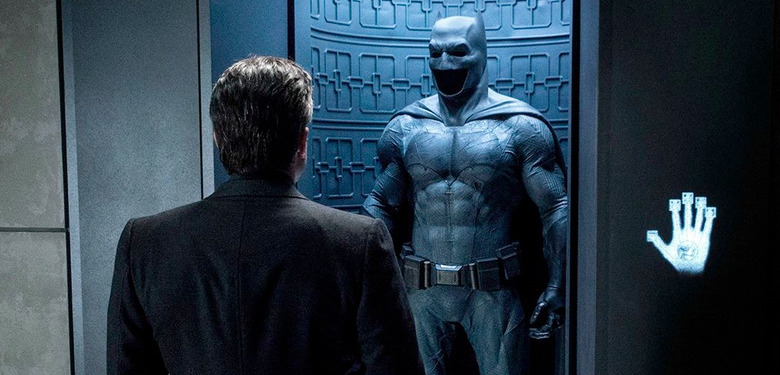 There has been a variety of cool news for Batman v Superman: Dawn of Justice lately. A trio of new character posters just debuted, finally giving Gal Gadot as Wonder Woman her own poster, and there's a chance that the film might end up getting a 70mm release thanks to Quentin Tarantino's The Hateful Eight.
And for Christmas Eve, we get a small gift from overseas with a new international Batman v Superman TV spot, and The Dark Knight isn't afraid of taunting The Man of Steel at all.
Here's the new international Batman v Superman TV spot from Warner Bros. Pictures:
There's no Wonder Woman in this trailer, but she'll likely pop up more in TV spots once we get closer to the actual release date in the spring. Plus, the movie is called Batman v Superman, so they really should be the focus anyway. They certainly gave her a big moment in the most recent trailer, prompting some fans to worry that the studio might be showing too much from the film that will bring the DC Comics trinity together on the big screen for the first time.
This movie is a big deal, not just because it will have Batman and Superman facing off for the first time on film, but also because a lot is riding on the success and quality of this movie. Warner Bros. has a whole cinematic universe planned for their comic book properties, and if this one doesn't stick the landing, some audiences might not stick around for more.
Zack Snyder directs Batman v Superman: Dawn of Justice from a script by Chris Terrio and David Goyer. Ben Affleck stars as Batman, Henry Cavill returns as Superman, and Gal Gadot makes her debut as Wonder Woman. Jason Momoa is additionally expected to make a cameo as Aquaman.
Also starring are Jesse Eisenberg as Lex Luthor, Amy Adams as Lois Lane, Holly Hunter as Senator Finch, Diane Lane as Martha Kent, Laurence Fishburne as Perry White, and Jeremy Irons as Alfred Pennyworth. Jena Malone and Scoot McNairy also appear in unspecified roles.
Fearing the actions of a god-like Super Hero left unchecked, Gotham City's own formidable, forceful vigilante takes on Metropolis' most revered, modern-day savior, while the world wrestles with what sort of hero it really needs. And with Batman and Superman at war with one another, a new threat quickly arises, putting mankind in greater danger than it's ever known before.
Batman v Superman: Dawn of Justice arrives March 25, 2016.