Mortdecai Weeps: Johnny Depp Is The Most Overpaid Actor Of 2015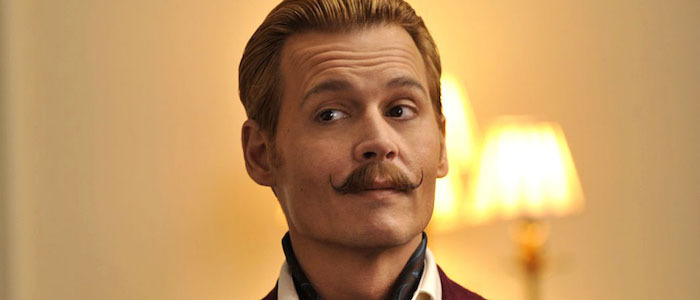 In news that should come as no surprise the millions of people who went out of their way to avoid Mortdecai and Transcendence, Forbes has compiled its annual list of the most overpaid actors in Hollywood and Johnny Depp is sitting not-so-pretty at number one. And when you look at the raw numbers, no one else is even close.
However, there's a little more going on here than a great excuse to kick Johnny Depp and his collection of dumb hats while they're down. The disparity between what "movie stars" are paid and what their movies end up grossing at the box office is shifting. The age of the movie star is effectively over and you can see this reflected in the full list below.
To understand how this all came together, here's how Forbes compiled this list:
To compile our rundown of Hollywood's Most Overpaid Actors, we use earnings estimates from our Celebrity 100 list. We look at the last three films each actor starred in before June 2015 (the end of our Celebrity 100 scoring period). We don't include animated films, movies where the actor appears in a very small role, or movies that were released on fewer than 2,000 screens. We then deduct the estimated production budget from the global box office for each film (using numbers from Box Office Mojo and other sources) to come up with a limited definition of each movie's operating income. We add together the estimated total compensation for each star on the three movies and the operating income from each movie and then divide to come up with the final return on investment number.
Going by those rules, Johnny Depp's third 2015 film, Black Mass, won't be eligible until next year's list. It also means that actors who had a rough 2014 can be punished for it by appearing on 2016's list. The presence of Tom Cruise on this list is a reflection of Edge of Tomorrow's disappointing box office last year rather than the exceptionally strong showing of Mission: Impossible – Rogue Nation this year.
So, before we go any further, here's the list of the most overpaid actors, complete with how much money their most recent movies grossed for every dollar they were paid:
1. Johnny Depp: $1.20 per $1
2. Denzel Washington: $6.50 per $1
3. Will Ferrell: $6.80 per $1
4. Liam Neeson: $7.80 per $1
5. Will Smith: $8.60 per $1
6. Christian Bale: $9.20 per $1
7. Channing Tatum: $10.80 per $1
8. Brad Pitt: $12.00 per $1
9. Ben Affleck: $12.30 per $1
10. Tom Cruise: $13.60 per $1
As you can see, Depp is the clear loser here, with his most recent films only earning a little over a buck for every dollar spent on his salary. The days when Depp's name alone was enough to make a movie a hit are over.
The rest of the entries aren't so cut and dry.Denzel Washington may be in second place here, but The Equalizer was a sizable hit and much of the draw came from his name above the title. The same applies to Will Ferrell in third place, whose Get Hard was a modest hit. This is where things get a little tricky – these movies made money, just maybe not enough to justify what their stars were paid. Others are just victims of bad timing. For Channing Tatum, the success of 22 Jump Street was cancelled out by Jupiter Ascending, a box office disaster of epic, whispered-about-in-board-rooms-for-years-to-come proportions.
For the record, Adam Sandler has topped this list for the past few years, but his recent exodus to Netflix has left his future profitability foggy at best.
So what does this all mean? It means what everything thinks it means and what it has meant for a while now. The audiences of 2015 don't instantly flock to a film because there's an actor they like in it – audiences now flock to franchises and concepts and strong hooks, not movie stars. If we like Channing Tatum, we don't necessarily have to go see the newest Channing Tatum movie because we're getting our daily does of him on Twitter and Instagram. Online fandom means loving an actor without bothering to even watch their movies. Things have gotten weird for Hollywood's most famous superstars. Even when people love someone, no one is a sure thing anymore.
In any case, Johnny Depp won't top this list with any consistency. After all, he's got Alice: Through the Looking Glass and Pirates of the Caribbean: Dead Men Tell No Tales around the corner. Those movies, built on concept and visual pizzazz and familiarity, will make Depp look good again, even if he's not the reason everyone will rush out to see them.