'The Forest' Trailer: The Woods Reeeally Want To Kill Natalie Dormer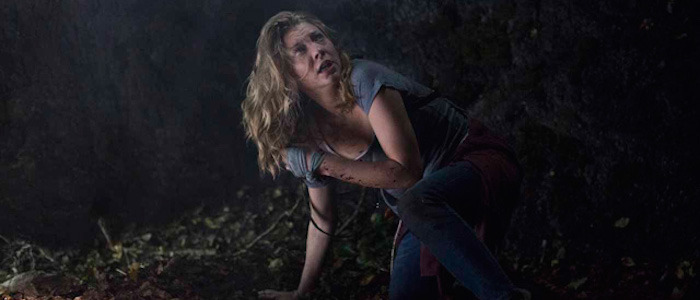 Surely Natalie Dormer has what it takes to be a great scream queen. Audiences may be more used to watching her strut around fantasy worlds (Game of Thrones) and sprint through science fiction dystopias (The Hunger Games), but here is an actress with all of the right ingredients for a great horror movie heroine – she's beautiful and tough and there's a crafty intelligence on display in many of her performances that allow you to believe that she's not just another bimbo to add to the kill count.
It's impossible to judge The Forest based on its new trailer, but this preview rightfully allows Dormer to shoulder the responsibility of selling this thing. "Yeah, there are jump scares and such," this trailer says, "but the main event is getting to watch Margaery Tyrell run through the woods and try to not get killed by ghosts." And you know what? For the doldrums of January, that may be more than enough to get us to pick up a ticket.
Watch the Forest trailer for yourself after the jump.
Since The Forest is the feature debut of director Jason Zada and he's a big question mark, the biggest thing this movie has going for it (besides Dormer, of course) is its setting. Filmed on location in the Aokigahara forest at the base of Mt. Fuji in Japan, the movie follows a woman who journeys into these mysterious woods in search of her missing twin sister. Naturally, these are the kinds of woods that are full of ghosts and don't like visitors, especially after dark and especially if you're alone. Cue creepy figures in burlap masks! Cue shots of Dormer sweating and screaming!
This particular trailer isn't the most inspiring piece of marketing we've ever seen, but what's on display here certainly looks capable enough. Horror fans have frequently been accused of having low standards (and yes, we're almost always guilty as charged), but any genre flick that has the good taste to cast someone as watchable as Dormer and throw her into a location this inherently creepy deserves at least some attention. The January release date is troubling (like with September, this is often where the film industry sends movies to die), but we're all going to need a Star Wars palate cleanser in a few weeks. This could do the trick.
If you need more, you can check out some exclusive photos from the film right here and the first trailer over here. Here's the official synopsis:
Rising with terrifying grandeur at the base of Mt. Fuji in Japan, the legendary real-life Aokigahara Forest is the suspense-filled setting of the supernatural thriller. A young American woman, Sara (Natalie Dormer of "Game of Thrones" and "The Hunger Games"), journeys there in search of her twin sister, who has mysteriously disappeared. In the company of expatriate Aiden (Taylor Kinney of "Chicago Fire"), Sara enters the forest having been well warned to "stay on the path." Determined to discover the truth about her sister's fate, Sara will have to face the angry and tormented souls of the dead that prey on anyone who dares come near them. These malevolent spirits lying in wait for Sara at every turn will plunge her into a frightening darkness from which she must fight to save herself.
The Forest opens on January 8, 2016. You can check out the new poster for the film below.