The Best & Worst Sketches From Tina Fey And Amy Poehler's 'Saturday Night Live'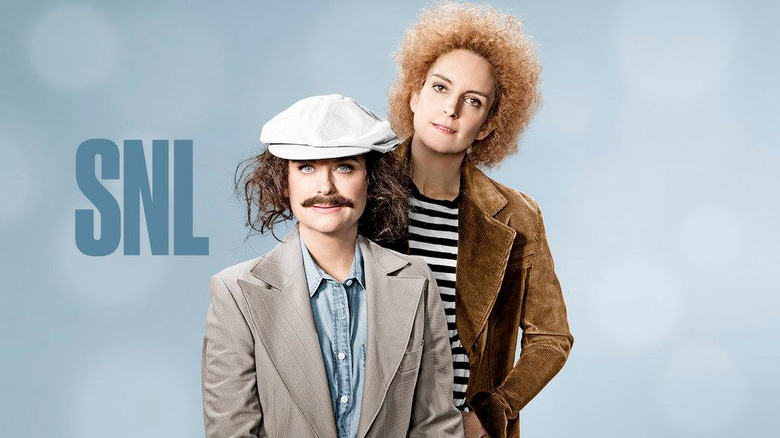 The last new episode of Saturday Night Live in 2015 hit the air last night, and with it came two favorite cast members returning to Studio 8H as hosts. However, despite the fact that Tina Fey and Amy Poehler both pulled hosting duties last night for the usually delightful episode that happens just before Christmas, this episode just didn't quite pack the punch that it should have. There were still some solid sketches and a couple of cool surprises, but overall, this was just an average episode.
We review each and every sketch from the Tina Fey and Amy Poehler Saturday Night Live episode below!
The Best
Meet Your Second Wife – Game show concepts are hit or miss on Saturday Night Live, but this one was wholly original, sharp and just plain funny. Though there were some technical difficulties in the live broadcast with the audio cues for the intro, once everything was in order and the game was revealed, the sketch was great. And what's great is that even after the first gag, the second and third reveals were got progressively funnier. Just a great sketch all around.
Tina & Amy's Dope Squad – In what is basically a parody of Taylor Swift's music video for Bad Blood that showcases all her famous friends, Amy and Tina show off their squad composed of nannies, gynecologists (I hope that's actually their real gynecologist) and other assorted ladies, including Amy Schumer. Also, that bit about actually shooting a slow-motion post-apocalyptic walk is great.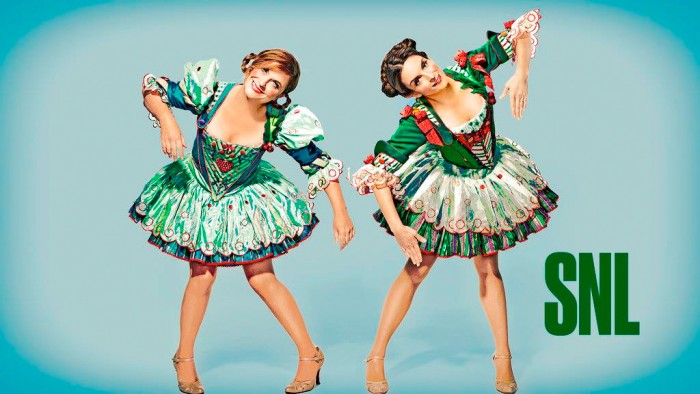 The Average
Bronx Beat 2015 – Bronx Beat was never a favorite recurring sketch of mine back when all these ladies were on SNL, but it was moderately entertaining every now and then simply because Amy Poehler and Maya Rudolph were so good as the characters. This was a solid entry, especially the chatter about Star Wars, but I think Maya Rudolph stole the sketch from both Poehler and Fey. But we'll get to that later.
Special Offer – Evidence of yet again how underrate Maya Rudolph was on Saturday Night Live, she stole this entire sketch with her drunken rendition of the "12 Days of Christmas." This sketch would have been one of the best if they didn't go for the cheap jab at Bill Cosby singing the creepy "Baby It's Cold Outside." But Taran Killam and Vanessa Bayer's characters were a fun way to break up the song clips.
A Hillary Christmas – I really didn't want this to happen, but knew it was a big possibility. Kate McKinnon is doing such a fine job as Hillary Clinton that we didn't need to rehash Amy Poehler's also fantastic take on the politician. However, I will say that it was clever to do A Christmas Carol-esque scene in order to bring them together. But what I really didn't like was shoehorning Tina Fey's famous Sarah Palin impression. It just wasn't necessary, and it felt like pandering in an effort to go viral.
Hoverboards – The earnestness behind the commercial almost makes it work, but it just doesn't feel clever enough to really land firmly with a big laugh. The hoverboards have been exploding, we get it. However, what I did laugh at was the plane lasers tag at the end. Seriously, whose stupid idea was that?
The Worst
Movie Set with Tina Fey and Amy Poehler – This was funny the first time back when Chris Hemsworth hosted (in the 40th season, not last weekend), but this isn't a recurring bit that works a second time around. While it's moderately amusing to see Poehler and Fey try to duplicate the goofiness of Kenan Thompson, it just doesn't work all that well a second time.
GOP Debate Cold Open – What are you doing, SNL? You had Taran Killam as Donald Trump in the beginning of the season, and then you brought Darrell Hammond back in to compare him to when the real Trump hosted. And now you've swapped him out again to have Killam play Ted Cruz. And even though Hammond's impression is dead on, they clearly still don't know how to do anything funny with him, because he's a walking caricature on his own. At the very least the Jeb Bush and Ben Carson stuff was chuckleworthy, but this sketch was just a mess and their political satire in general has really been lacking.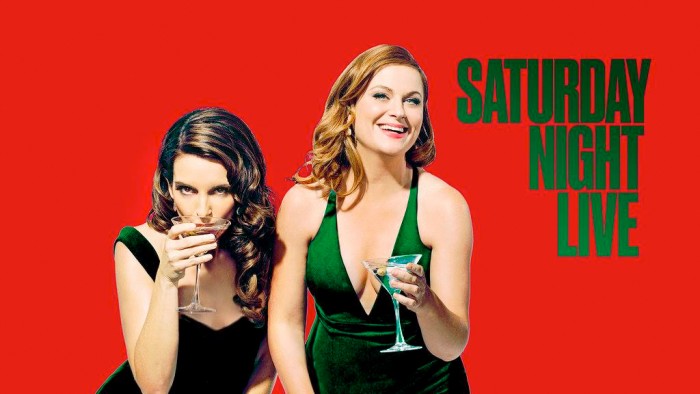 Weekend Update
Michael Che and Colin Jost continue to be adequate this week, though they still need more interaction. Whenever Che actually gets to make fun of Jost, it always makes them feel more relaxed and natural. They didn't do bad this time, but they still have to loosen up. Plus, it doesn't help when you bring Fey and Poehler in to do one desk joke each, and they make you miss when they were doing Weekend Update. Jost and Che just need to up their game.
Deenie – Everyone has to know a mother like this. Why was she eating baked salmon out of tupperware? Who cares? It added a nice layer of comedy to the proceedings, and it just shows that Kate McKinnon is easily the best cast member they have. There's nothing she can't do.
The Host(s)
Tina Fey and Amy Poehler are both veterans of Saturday Night Live as cast members during a time when females on the show were really knocking it out of the park. However, with the exception of their impressions of Sarah Palin and Amy Poehler, neither had any extremely memorable fan favorite recurring characters. I was hoping this would make for a spectacular original show, and while there were some decent laughs, it just didn't have the hilarity that I was hoping for from this fantastic duo.
The MVP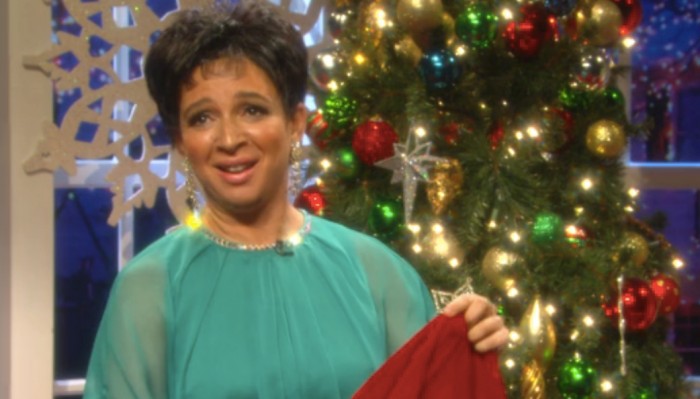 Maya Rudolph – Despite the presence of two SNL veterans as hosts, it was their fellow comedienne Maya Rudolph who made a bigger splash. In my opinion, Rudolph upstaged Poehler on Bronx Beat and knocked her drunken Christmas tune singing out of the park in the Special Offer sketch. Why haven't we gotten Maya Rudolph back to host Saturday Night Live again? She hosted back in 2012, and she was an absolute joy. Please, bring her back!
The Final Word
The Christmas episode is usually quite the spectacle, filled with guest stars, holiday shenanigans and some big laughs. But honestly, the Ryan Gosling episode was a better one for those purposes. It even had Mike Myers! Poehler and Fey clearly had fun, especially in their musical monologue, but the episode as a whole could've used a kick in the pants. The Christmas spectacle seems to have been reserved for an extra musical number with Bruce Springsteen and Paul McCartney, which is cool, but the sketches could have used some more pizzazz too.
We'll be back in a little under a month when Adam Driver hosts on January 16th.