POTD: Read A Page From The 'Deadpool' Script With Notes From The Merc With A Mouth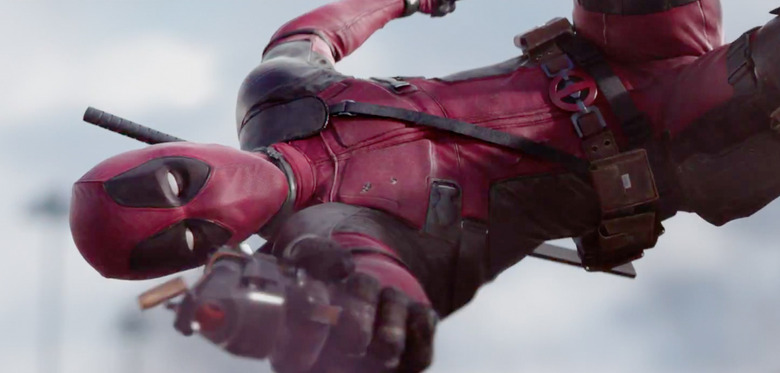 The 12 Days of Deadpool continued today with something that is both hilarious and cool. 20th Century Fox has released a page from the Deadpool script, which would be something fun to read on its own. But this particular page is made even better by the fact that the Merc with a Mouth himself provided notes on the script. In true Deadpool fashion, he makes plenty of inappropriate jokes, references and even includes a dig at X-Men Origins: Wolverine. Check it out!
Here's the Deadpool script page that came from JoBlo today for 12 Days of Deadpool:
At first I thought the note that says Fox is the best studio ever was a bit too much, but then I noticed the asterisk and how it led to a slap in their face for making the abomination that was X-Men Origins: Wolverine, which mistreated Deadpool so badly. I can't wait to see what other kind of meta jokes there are from Deadpool. The trailer already had a dig at Green Lantern, so we know the movie won't be pulling any punches at all.
Even without the notes from Deadpool, this is still a pretty cool script page because it features Deadpool engaging in a fight with the metal mutant Colossus (Andre Tricoteux), and he's not doing so well. Breaking both his arms and one of his ankles, Deadpool never loses that signature sarcasm and wit, which is exactly what you want from the smart-ass mercenary. I can already hear Ryan Reynolds delivering these lines in my head, and can't wait to see it played out in theaters.
I believe we may have seen just a brief glimpse of this scene from the Deadpool trailer that was released awhile back. Negasonic Teenage Warhead (Brianna Hildebrand) is there as well, but it seems like she's just a spectator for this fight. After all, why get in the middle of a fight between Deadpool and Colossus, especially one that seems to be getting Deadpool sexually aroused.
Deadpool is directed by Tim Miller and written by Rhett Reese and Paul Wernick (Zombieland). The rest of the cast includes T.J. Miller as Weasel, Gina Carano as Angel Dust, Morena Baccarin as Copycat and Ed Skrein as Ajax. Stay tuned for the new trailer that will be arriving on Christmas Day next week. Otherwise, you can watch the first trailer right here.
Based upon Marvel Comics' most unconventional anti-hero, DEADPOOL tells the origin story of former Special Forces operative turned mercenary Wade Wilson, who after being subjected to a rogue experiment that leaves him with accelerated healing powers, adopts the alter ego Deadpool. Armed with his new abilities and a dark, twisted sense of humor, Deadpool hunts down the man who nearly destroyed his life.
Deadpool arrives on February 12th, 2016.