New 'Twin Peaks' Trailer Takes A Beautiful And Spooky Trip Into The Pacific Northwest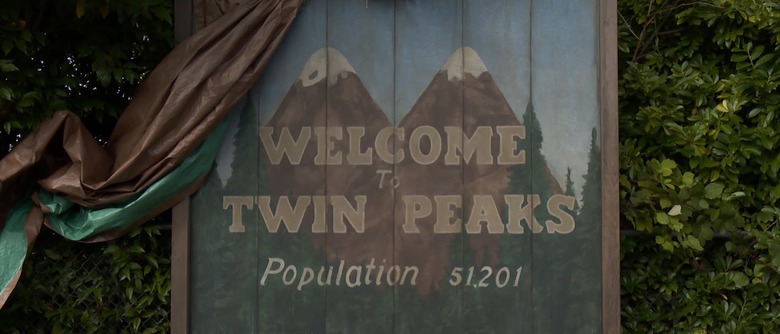 One of the most hotly anticipated shows of 2016 became one of the most hotly anticipated shows of 2017 when Showtime announced they were pushing back the Twin Peaks revival. But lest you worry this means the new episodes aren't happening at all, the network has released a tiny little Twin Peaks trailer showing off the series' gorgeous Pacific Northwest setting and its deliciously creepy vibe.
Check out the new Twin Peaks trailer after the jump. 
The Twin Peaks trailer is short and sweet and skimpy on footage, but with a dreamy surreal feeling thanks to that familiar Twin Peaks theme music. "Location sometimes becomes a character," says actor Michael Horse, who played Deputy Hawk in the original run. "There's a lot of holy places up here, a lot of sacred places. I can't put me finger on how I would describe it. It just touches something in the psyche. It's almost like being in a moving painting."
While he talks we get lots of shots of pristine Northwestern forests and fields and waterfalls, and a glimpse of the "Welcome to Twin Peaks" sign... and then shit gets freaky with a blurry, shaky shot of an unidentified man. That should give Twin Peaks fans something to mull over for the time being.
Kyle MacLachlan returns as FBI Agent Dale Cooper for the new series, which will consist of up to 18 episodes directed by David Lynch and written by Lunch and Mark Frost.
The critically-acclaimed, ground breaking television phenomenon TWIN PEAKS returns as a limited series to SHOWTIME in 2017. Currently in production, TWIN PEAKS is written and produced by series creators and executive producers David Lynch and Mark Frost and is directed entirely by David Lynch. While the full mystery awaits, fans can expect many familiar faces, including Golden Globe® winner and Emmy® Award nominee Kyle MacLachlan, who reprises his role as FBI Agent Dale Cooper.
Widely considered one of the most groundbreaking and influential broadcast series of all time, TWIN PEAKS followed the inhabitants of a quaint northwestern town who were stunned after their homecoming queen Laura Palmer was shockingly murdered. The town's sheriff welcomed the help of FBI agent Dale Cooper, who came to town to investigate the case. As Cooper conducted his search for Laura's killer, the town's secrets were gradually exposed. The mystery that ensued set off an eerie chain of events that plunged the inhabitants of Twin Peaks into a darker examination of their very existence. Twenty-five years later, the story continues...