'Batman V Superman: Dawn Of Justice' May Get A 70mm Theatrical Release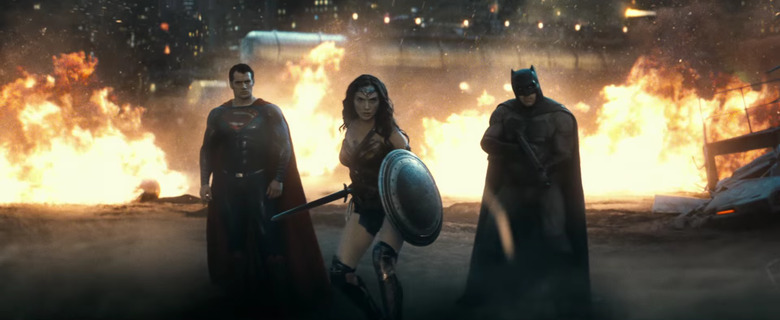 In just one week, Quentin Tarantino's new Western The Hateful Eight will roll out around the country with special 70mm screenings at select locations that will feature a longer cut of the film, complete with an intermission. In order to make this happen, The Weinstein Company had to put in the effort to get some theaters up to snuff with a 70mm projector. And now that could have some cool side effects for cinephiles interested in seeing more movies in the format, including next year's Batman v Superman: Dawn of Justice.
A new story from THR details the challenges of putting on the roadshow presentations in 70mm, a format that isn't anywhere near as prominent as it was decades ago, before the advent of digital filmmaking. And after talking about the work The Weinstein Company did to get 100 screens ready for The Hateful Eight in 70mm, the report mentions that the increased availability of those projects has Warner Bros. thinking about giving Batman v Superman: Dawn of Justice a 70mm release.
This would be great — not just because the comic book movie could be seen on real film, but also because director Zack Snyder shot part of the film on 65mm IMAX format, which makes a 70mm projector the best possible way to see the movie on the big screen. As of now it's just a possibility with no firm plans just yet, but the studio is indeed thinking about making that happen when the movie arrives on March 25th, 2016.
The only downside is that it's much more expensive, so it might not become a regular thing for blockbusters to take advantage of in the future. Plus, hiring people who actually know how to run and maintain a 70mm projector might prove to be tricky, though it wouldn't be difficult to train more. At the very least, it's just nice that more theaters now have the capability to project 70mm film.
In addition to the possible Batman v Superman 70mm release, studios are also considering re-releasing some classics like Lawrence of Arabia or Ben-Hur to take advantage of cinema's finest format. So The Hateful Eight could turn out to be a real treat to cinephiles in more ways than one. If Batman v Superman ends up getting a 70mm release, we'll be sure to let you know. Otherwise, stay tuned to see if any other movies, new or old, take advantage of the format.