Star Wars Bits: No More Blasters At Disney Parks, Darth Vader Fireplace, Detours And More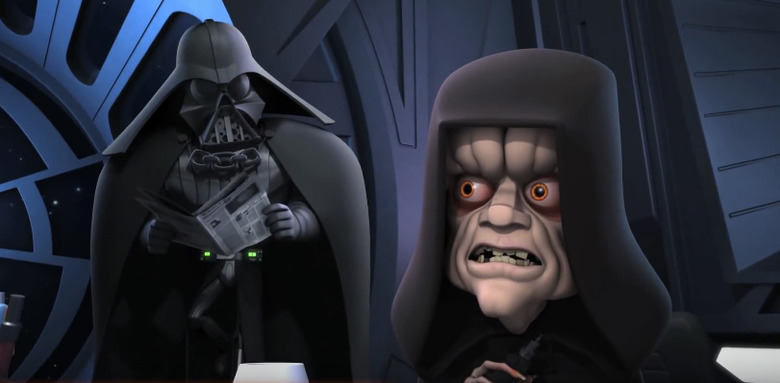 This edition of news from a galaxy far, far away includes:
No more blasters at Disney theme parks for costumes or sales
See every time Chewbacca speaks in the Star Wars movies
Read some commonly misconstrued "facts" about Star Wars
Gallery Nucleus Star Wars artwork from their new exhibition
Dive into the art and design of Star Wars in a new video
The history of the animated Star Wars comedy series Detours
Darth Vader funeral pyre burning video for holiday ambiance
Look at the history of the toy frenzy created by Star Wars
Examining the title sequence of the original Star Wars
What if Star Wars: Revenge of the Sith was good?
Someone cut together every time Chewbacca spoke in the Star Wars movies.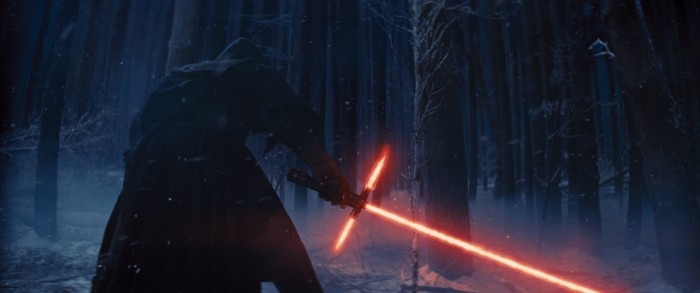 While Star Wars fans usually know a lot about the galaxy in which the film franchise takes place, there are some details that they still get wrong from time to time. For example, not all those who use the dark side of The Force are Sith, as evidenced by Kylo Ren in Star Wars: The Force Awakens. Find out more of these frequently misconstrued "facts" about the Star Wars universe over at ScreenRant.
Here's some of the artwork that will be on display at Gallery Nucleus' Star Wars show that will be on display for the next 16 days. You can see a few more pieces from the show at SuperPunch right here.
This video dives into the art and design of Star Wars, including original concept art.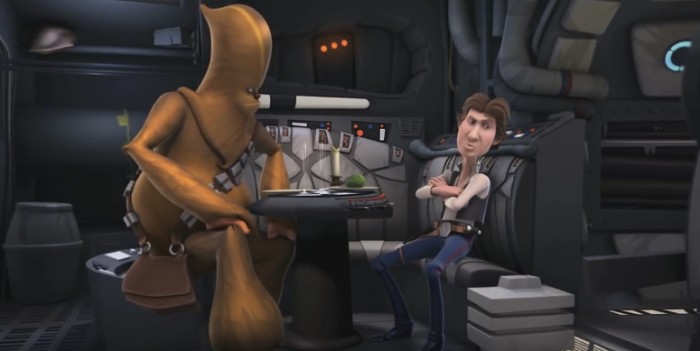 At one point, there was an animated Star Wars comedy series called Detours in the works from the creators of Robot Chicken, but once the wheels of Disney buying Lucasfilm began to turn, the entire season and a half that was created for the show was put on hold. As of now, it doesn't look like we'll ever get to see what would have been the first officially sanctioned Star Wars comedy series, but you can dive into the fascinating story of how it came to be before it disappeared in this great feature over at ScreenCrush.
If you need a Star Wars themed fireplace video this year, here's five hours of Darth Vader burning.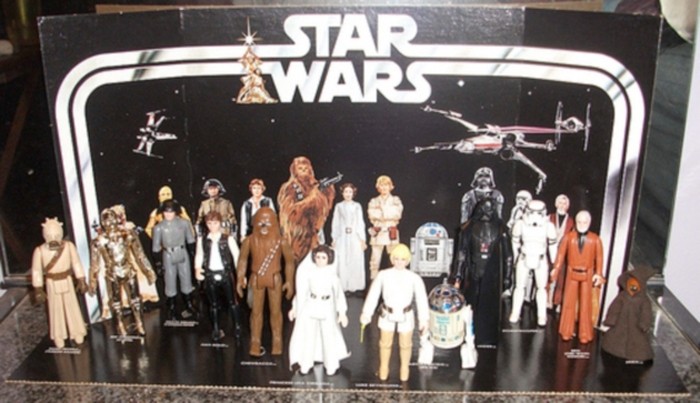 Our old pal Germain Lussier at io9 put together a great look back at how the merchandising of Star Wars changed the way movies are marketed forever. With insight from well-known author, former Lucasfilm employee and collector Steve Sansweet, toy executives from Kenner and more, it's a fascinating look at how the behemoth of Star Wars marketing came to be.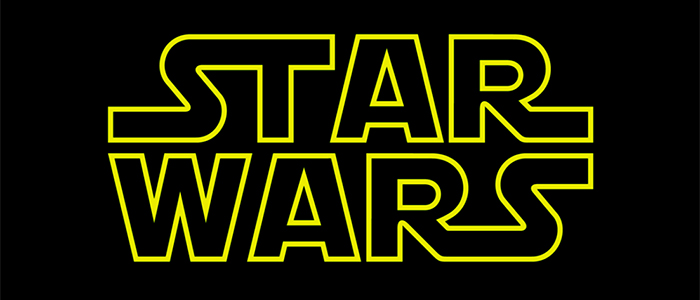 The folks over at Art of the Title dive into the iconic opening crawl of the original Star Wars. They examine the inspirations behind the sequence used to open every single Star Wars movie ever since and also talk with title designer and filmmaker Dan Perri. to tell you everything you need to know about the iconic title sequence.
Belated Media imagines what it would be like if Star Wars: Revenge of the Sith was good.