Wonder Woman Finally Gets Her Own 'Batman V Superman: Dawn Of Justice' Poster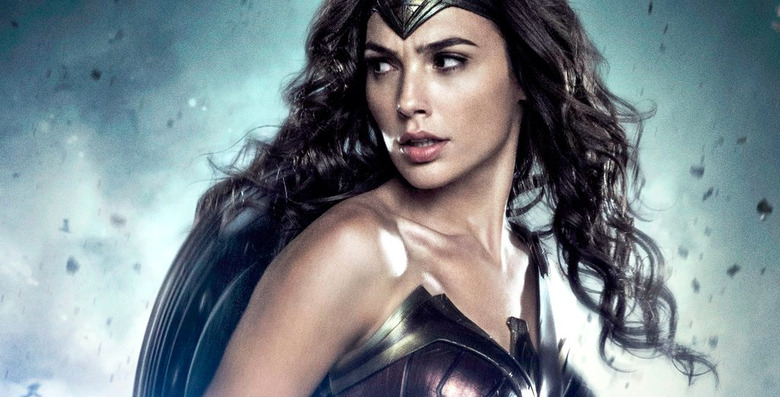 Since the movie is called Batman v Superman: Dawn of Justice, it's understandable that most of the marketing has been centered around seeing these two superhero icons go head-to-head on the big screen for the first time. However, Wonder Woman stole the show in the latest trailer for the spring blockbuster, so it's time she found her way to the spotlight.
Gal Gadot finally gets her own Wonder Woman poster along with two new posters featuring the Dark Knight and the Man of Steel. However, they're a little tainted by the big giant logos that are slapped on top of them.
Here's the three new Batman v Superman: Dawn of Justice posters:
Each of the posters were revealed today by Ben Affleck, Henry Cavill and Gal Gadot on their respective social media channels, and the characters themselves just look cool. But it feels like the giant red logos for each character were slapped on at the last minute. I would have much rather seen these posters without that eyesore and have them all connect to each other to form the comic book trinity that we were so excited to see together on screen for the first time in the last trailer.
Anyway, hopefully what we've seen of Gal Gadot so far has convinced some of the naysayers that she fits into the role of Wonder Woman quite well. But to be fair, we also haven't heard her say any lines yet. Perhaps that will come whenever the next trailer hits in 2016. Maybe we'll even get a tease for Wonder Woman before or after Batman v Superman: Dawn of Justice. The film is in production now and we've already gotten an official look at Gadot on the set in full wardrobe.
Zack Snyder directs Batman v Superman: Dawn of Justice from a script by Chris Terrio and David Goyer. Ben Affleck stars as Batman, Henry Cavill returns as Superman, and Gal Gadot makes her debut as Wonder Woman. Jason Momoa is additionally expected to make a cameo as Aquaman.
Also starring are Jesse Eisenberg as Lex Luthor, Amy Adams as Lois Lane, Holly Hunter as Senator Finch, Diane Lane as Martha Kent, Laurence Fishburne as Perry White, and Jeremy Irons as Alfred Pennyworth. Jena Malone and Scoot McNairy also appear in unspecified roles.
Fearing the actions of a god-like Super Hero left unchecked, Gotham City's own formidable, forceful vigilante takes on Metropolis' most revered, modern-day savior, while the world wrestles with what sort of hero it really needs. And with Batman and Superman at war with one another, a new threat quickly arises, putting mankind in greater danger than it's ever known before.
Batman v Superman: Dawn of Justice arrives March 25, 2016.