'The Force Awakens' Cast Joins Jimmy Fallon For An A Capella Rendition Of 'Star Wars' Themes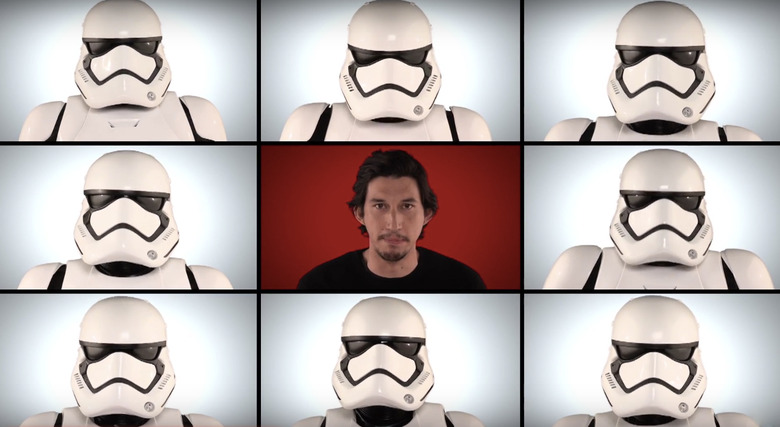 Even people who aren't Star Wars fans know the iconic fanfare that begins every single movie. The same can be said for the iconic Imperial March used to signify the arrival of the Empire and Darth Vader. And now thanks to The Tonight Show with Jimmy Fallon, his house band The Roots, and the primary cast of Star Wars: The Force Awakens, we have an awesome a capella version of those iconic themes that's presented like the opening credits of The Brady Bunch, but a hell of a lot cooler. Watch!
Here's the a capella Star Wars rendition from The Tonight Show with Jimmy Fallon:
What's fun about this video, besides everything, is where they decided to situate the cast members for these a capella versions of the songs. John Boyega, Daisy Ridley and Oscar Isaac get to do the main Star Wars theme because they're the heroes. Meanwhile, Adam Driver and Gwendoline Christie get to do the Imperial March. Then things pick up a bit with C-3Po, R2-D2 and BB-8 joining in for the primary Cantina Band theme song (created by one of the best fictional bands of all time).
But the real payoff comes when Lupita Nyong'o is joined by Carrie Fisher, followed by a grand finale with Chewbacca and Han Solo himself, Harrison Ford, even though the latter can't really carry a tune as evidenced by the strange look Fisher gives him from the right side.
It's just one more fun way to lead up to the release of Star Wars: The Force Awakens this week. Peter Sciretta's spoiler-free review from the world premiere on Monday just hit overnight along with David Chen's video review, and tomorrow is when the first nationwide screenings begin.
And since this came about because of the iconic music of Star Wars, let's not forget that the entire score will be available on December 18th as well. But if you want a taste right now, you can check out a 60 Minutes feature with John Williams conducting his orchestra playing part of the opening track after the main theme right here.