New 'Ghostbusters' Photo Shows The Crew Ready To Do What They Do Best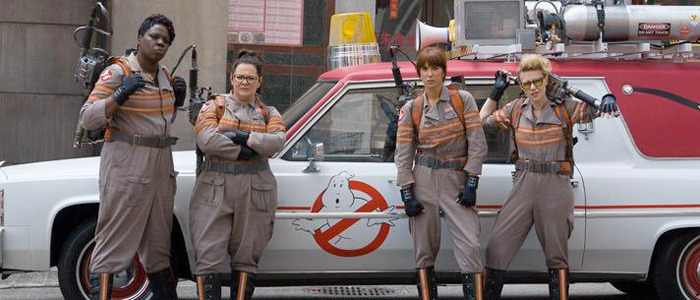 So far we've only gotten one official look at the new Ghostbusters team composed of Kristen Wiig, Kate McKinnon, Melissa McCarthy and Leslie Jones. But that changes today as a new promotional photo has surfaced. It doesn't look to be from the movie since they're posing for the photo, but it's still a pretty slick little snapshot of the team with some ominous mist around them. Check out the new Ghostbusters reboot photo below!
The new photo was released to hardcore Ghostbusters fans at Planet Ghostbusters: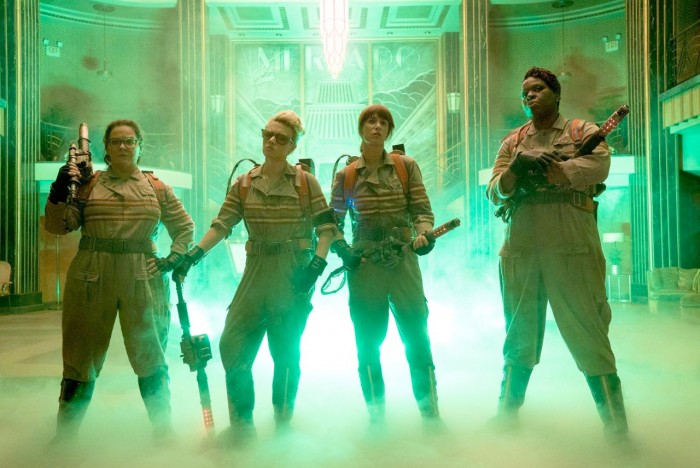 The proton packs they have on seem to be the first ones that director Paul Feig unveiled to everyone by way of Twitter, while production was still underway. But remember that there is a second round of proton packs that we glimpsed when the cast went to visit a children's hospital earlier this year. The neutrino wands were very different from the ones we see here, so it'll be interesting to see how the technology for the crew develops in the movie.
Otherwise, this appears to be some kind of fancy lobby, perhaps a hotel for the team to get their first call, just like the original Ghostbusters. And there's definitely a green tint to the mist in the photo, so could we also see Slimer being the first ghost that they catch? There were rumblings that the character would pop up in the reboot, though rumors of who was voicing him were debunked by Feig himself.
With a new photo like this debuting and a summer release date next year, we might get to see a teaser trailer soon. After all, some of the biggest summer movies are already starting to release their first trailers (such as Independence Day: Resurgence), so it's about time we got to see the first footage from the new Ghostbusters.
In addition to the new busters, the rest of the cast includes Chris Hemsworth as their secretary, Andy Garcia as the mayor of New York City, Michael K. Williams, Matt Walsh and Neil Casey as the film's villain. Plus, nearly all of the main cast members from Ghostbusters, including Bill Murray, will be popping up in various cameos throughout the movie, though not as their characters from the original franchise.
We should have more on the new Ghostbusters movie soon, so stay tuned. The reboot arrives on July 15th, 2016.