Watch: 'Broad City' Stars Stop By For 'Sisters' Promo That Has Nothing To Do With 'Sisters'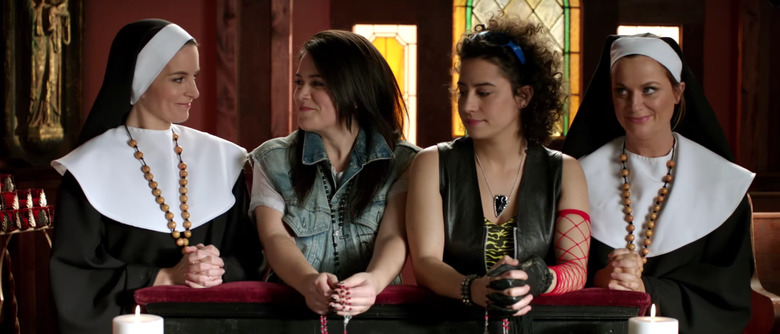 In just a few days, Star Wars: The Force Awakens will reunite Harrison Ford, Mark Hamill, and Carrie Fisher on the big screen for the first time since 1983's Return of the Jedi. But this weekend also marks the premiere of Sisters, which will feature Amy Poehler and Tina Fey in a movie together for the first time since... 2013's Anchorman 2: The Legend Continues?
Okay, so one of those is admittedly a much more momentous occasion than the other. But seeing Fey and Poehler together should still be fun, if somewhat less thrilling than space battles and lightsaber duels. And to help drive that point home, they've recruited Abbi Jacobson and Ilana Glazer for a weird and funny new promo. It's not quite a Sisters trailer, and it's not quite a Broad City ad, but it's definitely worth checking out if you're a fan of these four hilarious women. 
Comedy Central debuted "Sisters Helping Sisters," about two up-to-no-good sisters (the sibling kind, played by Glazer and Jacobson), who are taken into the care of two kindly sisters (the nun kind, played by Fey and Poehler). Which seems like a lot of sisters — "Maybe too many sisters by two," Poehler suggests — but it's actually just the right amount of sisters for this weird little short.
If you're thinking to yourself, "Gosh, I'd really love to see Sisters, but I already promised my own sister I'd watch Star Wars with her this weekend," Sisters has some good news for you: "#YouCanSeeThemBoth." Really. It's the entire premise of the last Sisters promo, which borrows more than a few weeks from the Star Wars playbook.
To clarify, Sisters the movie actually has nothing to do with Star Wars or nuns that we know of. Here's the actual plot:
Tina Fey and Amy Poehler reunite for SISTERS, a new film from Pitch Perfect director Jason Moore about two disconnected sisters summoned home to clean out their childhood bedroom before their parents sell the family house. Looking to recapture their glory days, they throw one final high-school-style party for their classmates, which turns into the cathartic rager that a bunch of ground-down adults really need.
Sisters, like Star Wars, opens December 18. Broad City Season 3 premieres Wednesday, February 17 on Comedy Central, and will involve prospective presidential nominee Hillary Clinton in some fashion.