Goldie Hawn, Bette Midler And Diane Keaton Reunite For 'Divanation' At Netflix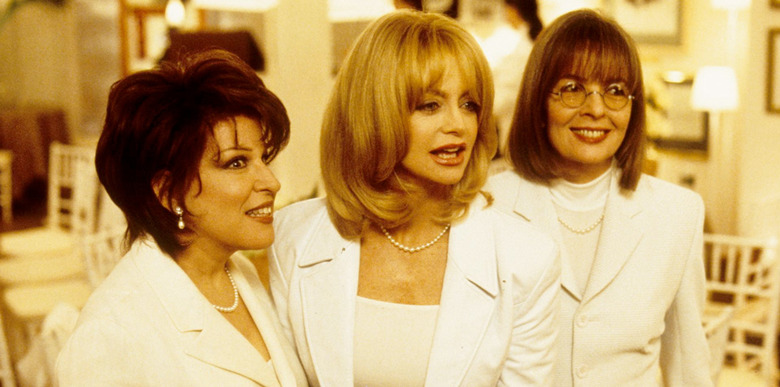 The First Wives Club is back! Kinda. It's been nearly 20 years since Bette Midler, Goldie Hawn and Diane Keaton starred in the comedy about three women striking back at their ex-husbands and getting what they deserve, and now the trio of actresses will reunited for a new feature film project at Netflix called Divanation. And it sounds like the perfect project for these veteran actresses.Deadline reports Netflix picked up the comedy today as an effort to broaden the demographic for their original programming slat. With these three women in the lead, they'll definitely be shooting for an audience that usually doesn't get much special attention in theaters.Divanation will follow Hawn, Midler and Keaton as the former members of a popular singing group who are forced to reunite after being apart for 30 years. As you might expect, the estranged trio's reunion begins as tense and unwanted but eventually turns cathartic when they realize what made them successful so many years ago.
We've actually already gotten a taste of what it might be like to have Hawn, Midler and Keaton as a musical group since they delivered a little rendition of the tune "You Don't Own Me" at the end of First Wives Club back in 1996:
The script will come from Lisa Addario and Joey Syracuse, who scripted both the underrated animated comedy Surf's Up and the absolutely abysmal family comedy Parental Guidance. Hopefully that last outing with Bette Midler isn't indicative of what we can expect to come from this new project. A new draft of the script will be done before a director is sought, so we might be waiting awhile to see this one come together.
Netflix continues to plow into the feature film world after producing two completely different original feature films for their service this year. They have the awards-worthy Beasts of No Nation starring Idris Elba and the stupid comedy The Ridiculous 6 from Adam Sandler. There's no way of telling how successful these films are compared to if they were at the actual box office, but it must be working for them if they keep producing new films.
This may not sound like anything special, but there was a time in the '90s when these ladies were quite popular, and having them reunite will be pretty exciting for a different kind of audience that Netflix hopes to land. And maybe it'll be enjoyable for the rest of us as well.