'Independence Day: Resurgence' Trailer: They're Back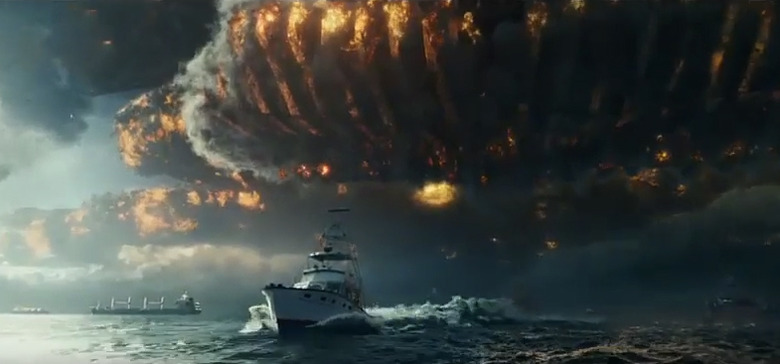 Out of nowhere this weekend, the first trailer for Independence Day 2 debuted right in the middle of a football game, giving us our first real look at the sequel that fans have been waiting 20 years to see come together. And now the first Independence Day Resurgence trailer is online, and it actually looks pretty damn cool.
Here's the Independence Day 2 trailer (via JoBlo):
It looks like President Whitmore (Bill Pullman) may still have a connection to the aliens after learning the plans of their species through a psychic connection in the first film. The grizzled beard shows us that he might be dealing with some serious post-traumatic stress after his encounter with the aliens the first time around. The interruption of his memorable speech at the end is a great touch.
Meanwhile, we get to see Jeff Goldblum back in space as part of the Earth Space Defense program, the worldwide initiative created with the goal of being prepared if the aliens ever returned, complete with a base on the moon. That's actually where Liam Hemsworth's character is working, and it looks like he has a romance with Whitmore's daughter, played by It Follows star Maika Monroe.
Otherwise, there's no Will Smith, but Jessie Usher looks to be doing a good job in his place as Captain Steven Hiller's son, taking the aerial fight to space this time. We were on the set of the sequel earlier this year, and as soon as we can tell you about all the cool new stuff we saw from this second invasion, some of which you can see in this trailer, we'll let you know.
Find out what we learned from the Independence Day: Resurgence press conference earlier this year right here.
From director Roland Emmerich and producer Dean Devlin, 1996's Independence Day shattered opening weekend and total box office records, becoming the year's top-grossing film. It also became the first movie in history to gross over $500m internationally.
But Independence Day was just the beginning. We always knew they were coming back. After that film redefined the event movie genre, the next epic chapter in the Independence Day universe delivers a global spectacle on an unimaginable scale. Using recovered alien technology, the nations of Earth have collaborated on an immense defense program to protect the planet. But nothing can prepare us for the aliens' advanced and unprecedented force. Only the ingenuity of a few brave men and women can bring our world back from the brink of extinction.
The sequel arrives on June 24th, 2016.