Rumor: Will Smith's Deadshot May Pop Up In Ben Affleck's Next Batman Movie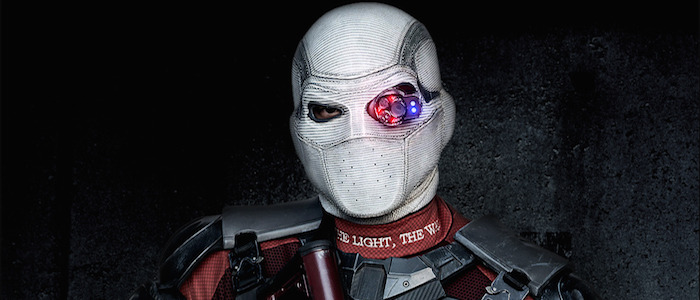 Did you think Warner Bros. was going to cast Will Smith as a major character in their burgeoning DC superhero movie universe and then only put him in one movie? Even if Suicide Squad doesn't light fandom on fire (which seems unlikely at this point), we'll probably see a great deal of Smith's Deadshot in the years ahead. After all, the DC universe's greatest marksman is a strong utility player – you can slide him into just about any story, starring any superhero, and he'll function as a worthwhile adversary and/or reluctant ally.
So perhaps it isn't too surprising that new rumors suggest that Smith's Deadshot will share the screen with Ben Affleck's Batman in the latter's first solo film, which is due out in sometime in 2018. Or 2019. No one seems to know. In any case, Warner Bros. may have realized that Affleck and Smith sharing the screen was too huge of an opportunity to pass up and took the appropriate steps.
Hit the jump for more that Deadshot Batman rumors.
This rumor comes to us courtesy of Latino Review, who have had their fair of success when it comes to pillaging the superhero movie news rumor mill. Still, take this all with a grain of salt (you know what, just grab a fistful) until something is confirmed. And since we still have Batman v Superman: Dawn of Justice, Suicide Squad, Wonder Woman, and at least one Justice League movie to go before a new Batman movie may hit theaters, confirmation could be a long time coming. If it comes at all. These things are always in flux.
Latino Review doesn't have many details, but they say that if Smith does join the film, "it will be for a "major role" for a The Good, The Bad, and The Ugly scenario." We're not entirely sure what that means. Will Batman and Deadshot wander around Gotham City looking for buried treasure while staring at each other in sweaty close-ups? And if Batman is the good and Deadshot is the bad, does that means Jared Leto's Joker gets to be the ugly?
In any case, Deadshot is a great adversary for Batman for one simple reason: he kills a bunch of people with guns on a regular basis, which goes against everything the Dark Knight stands for. Plus, no one is going to say no to a movie where Affleck and Smith get to battle it out and, most likely, put aside their differences to take down a common foe.
We know very little about the next solo Batman movie beyond Affleck himself sitting in the director's chair and the rumored title of The Batman. With Affleck at the helm (and co-writing the screenplay with comic book writer Geoff Johns), any potential Deadshot plans will have to go through him at some point. We'll probably know more in, oh, maybe a year or so.