'The Americans' Season 4 Teaser: Bang Bang, Kerri Russell Shot You Down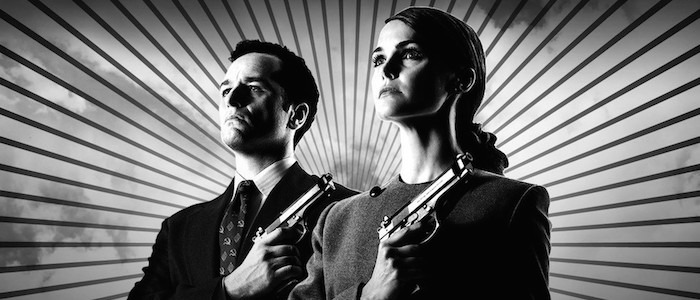 For the past three years, The Americans has quietly become one of the best shows on television. Joseph Weisberg's unflinching tale of spies and family and 1980s America was good from its pilot, but it became great in its second season and magnificent in its third. There are no shortage of espionage stories being told on TV these days, but The Americans, gray and pessimistic and brutal and loaded with all of the necessary dread for a Cold War story, is unafraid to explore what the actual life of a spy would be like. It's all waiting, punctuated by moments of horrible violence and tough decisions.
The first snippet of marketing for the new season has arrived and while it's not much, it's a reminder that this really is one of the most compelling things on television and that FX is doing good work by brining it back. In a perfect universe, this show would be as popular and talked-about as Fargo.
Watch the The Americans season 4 teaser after the jump.
For those who are new to the series, The Americans follows two Soviet spies who work undercover on American soil. To maintain their secret identities, they were married years ago and have two children who are unaware of what their parents do for a living. The series follows their day-to-day exploits as they attempt to undermine the security of the United States while raising a family in the nation they're trying to defeat. Naturally, a "family friend" is also an FBI agent, but that is the least of their worries by season 3.
Don't get too excited for new footage in this teaser or anything like that. The extent of this teaser is Keri Russell's Elizabeth standing against a red background, silenced pistol at the ready. There's no sign of other major characters like Matthew Rhys' Philip, Holly Taylor's Paige, or Noah Emmerich's Stan, but it wouldn't surprise us to see each of the principal players receive their own little teaser.
The Americans season 3 ended (and this is your spoiler warning if you're not caught up yet) with Paige, newly informed of Elizabeth and Philip's secret, confiding in her pastor that her parents are Soviet spies. Since there's no way Pastor Tim is actually going to respect her wishes and keep that information to himself, season 4 is surely going to hit the ground running. For the first time, our heroes are facing a serious threat to their identities and that long-simmering tension between the Philip and his daughter's religious beliefs is surely going to boil over into violence.
FX hasn't set an exact release date, but The Americans is expected to return to the air in March 2016. That gives you three months to catch up. You can do it.