New 'Star Wars: The Force Awakens' International Trailer: You Probably Shouldn't Watch It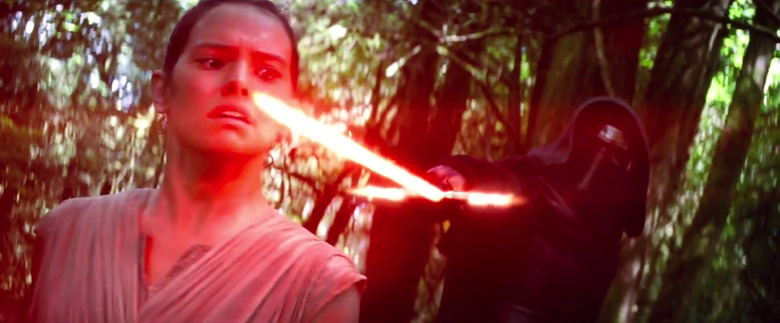 With one week to go until the first showings of Star Wars: The Force Awakens begins, it's time to start showing some restraint until we see the movie. But of course we know there are some of you out there anxious to see every scrap of footage from the sequel that you can, and if that's what you're hungry for, then this new The Force Awakens international trailer won't leave you disappointed. There is a chance that one part of it might make you cringe though. Watch! Or don't!
Here's the new Star Wars: The Force Awakens international trailer from JoBlo:
There's some new Kylo Ren (Adam Driver) dialogue (including a variant on a line that we've already heard), as well as a couple new lines from Andy Serkis as Supreme Leader Snoke making threats about crushing the Reisistance.
But the real showstopper moments come from seeing Han Solo (Harrison Ford) and Chewbacca (Peter Mayhew) back behind the controls of the Millennium Falcon. And I don't know about you, but I don't like what happens after the shot we've seen before when the Falcon crashes through the treeline. That's the part that literally made me wince and react audibly to myself. I could have done without seeing that moment, but now I'm just anxious to see if the ship actually survives. That would be a travesty if it didn't, but I suppose anything can happen.
Anyway, there's some other new shots in there as well, including more of Finn (John Boyega) wielding a lightsaber against that Stormtrooper that has some kind of deflective weapon to combat them. Plus, Rey (Daisy Ridley) seems to be pretty confident in her flying abilities. But most of the new stuff is just a couple seconds longer held on shots that we've seen previously.
We know you're probably getting sick of hearing about all things Star Wars, but with just one week before the movie hits theaters, what do you expect? Once The Force Awakens arrives we can turn our attention to other movies like Rogue One, then Episode VIII, then the Han Solo spin-off, and then who knows what's next. Yeah, this is never going to stop. I would apologize, but I really like Star Wars.