POTD: James Gunn's Coffee Table Is Star-Lord's Awesome Mix Vol. 2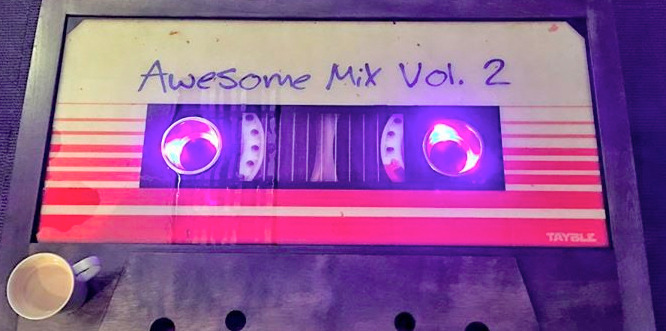 Even though James Gunn has always been active on social media, the attention he's gotten on his Facebook, Twitter and Instagram pages since directing Marvel's smash hit Guardians of the Galaxy has been more than considerable. From fan Q&As to rumor responses, not a week goes by that there isn't something worth paying attention to from Gunn.
This week is no different. Gunn has shown off one of the coolest coffee tables you've ever seen, and it's inspired by the birthday present that Star-Lord's mother left him on her death bed. Check it out!
Here are the two photos of the Guardians of the Galaxy coffee table James Gunn posted on Facebook:
Gunn explained where the coffee table came from in his post:
One of our pre-vis animation artists had this incredible Awesome Mix Vol. 2 coffee table custom made, and it sits in front of us every day while we work on designing the big sequences in the film. I love this table because it's a gorgeous piece of work, but also because it's yet another sign of how passionate and invested so many of my co-creators on this film are. We all truly care about the movie we're making.
Now if this animation artist would just release the plans he used to make the table so we can build our own (or at least pay someone to build one for us), that would be splendid. Or if we could find out what other songs are on Awesome Mix Vol. 2, that would be great as well. Otherwise, why not check out the original pre-production tracklist for Awesome Mix Vol. 1 right here.