Rebecca Ferguson Returning For 'Mission: Impossible 6'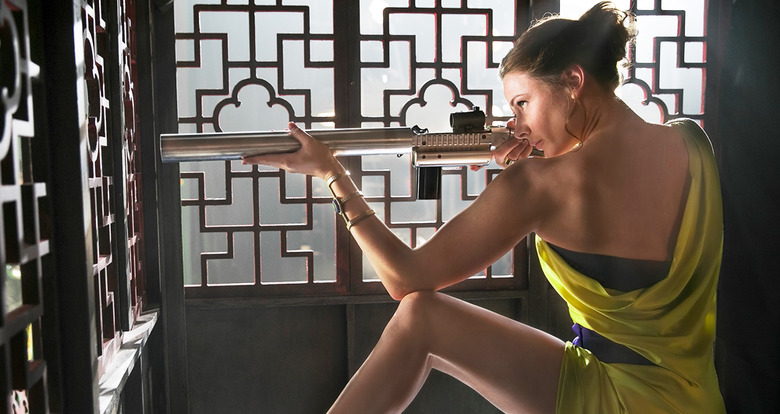 Stealing the show from Tom Cruise in his own movie is no easy feat, but Swedish actress Rebecca Ferguson pulled it off in Mission: Impossible – Rogue Nation, becoming a breakout star in the process. Since then she's been considered for the female lead in Gambit, booked and shot the thriller The Girl on the Train, and also picked up the female lead in The Snowman starring Michael Fassbender. There's even a rumor that she's wanted to play Captain Marvel.
Now she'll also be busy reprising the role that brought all this success in the first place. Ferguson has been confirmed to return for Mission: Impossible 6 as well. Find out more below!
Showbiz 411 has the scoop that Ferguson's deal is "signed, sealed and delivered for part 6," meaning that her badass character Isla Faust will play some kind of role in the sequel. Ferguson will be making history for the Mission: Impossible franchise as the first female star to return for a second time in a major role. Michelle Monaghan previously reprised her Mission: Impossible III role for a cameo in Ghost Protocol, but Ferguson's return should be much different.
As of now, we have no idea what the story will be for the sixth installment. But with production not planned to begin until next August, there's plenty of time for us to find that out. The important thing is Rebecca Ferguson returning for Mission Impossible 6, as a cunning and generally cool character back to team up with Ethan Hunt and the Impossible Mission Force again.
Ferguson has this classic movie star vibe about her, and she really brought life to the character of Isla Faust. It also helped that the script kept us guessing as to whether or not we could trust her, making Isla that much more engaging and compelling.
Honestly, if there ever comes a time when Tom Cruise chooses to pass the torch, I wouldn't mind seeing Ferguson take the lead. In the past couple movies, it's become much more of an ensemble effort, rather than just Cruise carrying the whole movie. So it wouldn't be out of the realm of possibility for the franchise to continue without him. After all, when his appeal seemed to be fading, Jeremy Renner was supposed to be set up to inherit the franchise, though that turned out not to be necessary.
As we just learned not too long ago, Christopher McQuarrie will be back to write and direct Mission: Impossible 6. And since he's the first director to take on two films in the franchise, he and Ferguson are both shaking things up for the series. No release date has been set yet, but a release sometime in the summer of 2017 makes the most sense. Stay tuned.