Exclusive: The New 'Anomalisa' Poster Invites You To Look A Little Closer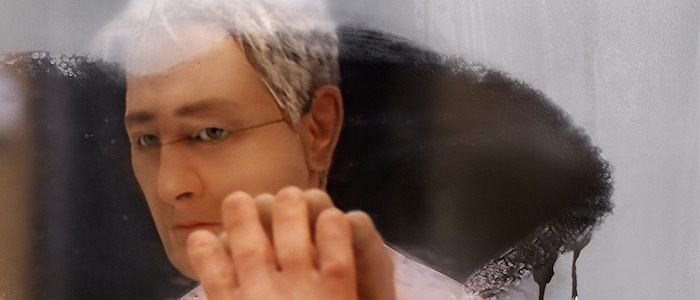 At the risk of sounding like a broken record, Anomalisa is my favorite film of 2015 and one of the most unique and shattering experiences of my moviegoing life. Charlie Kaufman and Duke Johnson's stop-motion animated drama is a once-in-a-lifetime work of art. Cynical and beautiful and heartbreaking and hilarious, it is an enthralling, painfully human tour of the emotional spectrum. It's the kind of movie that sinks its claws into you and leaves a mark. I was lucky enough to see Anomalisa at Fantastic Fest earlier this year and I found myself spending the rest of the festival thinking about, grappling with it, and trying to come to terms with what it had to say about its characters and their relationships. Few films pulverize your soul with such direct, expertly crafted force.
In other words, I couldn't be happier to help premiere a new poster for the film, which casts a spotlight on David Thewlis' character Michael Stone. Check out the new Anomalisa poster after the jump.
One of the most astonishing aspects of Anomalisa is how it uses stop-motion to create a mundane setting and fill it with so many all-too-human, all-too-real characters. The poster below offers the tiniest glimpse of how these characters look, feel and interact with their world. You have never seen stop-motion characters move like this and you have certainly never seen them wipe steam off their bathroom windows so they can stare at their reflection with quiet self-loathing. When you actually consider what Kaufman, Johnson, and their crew had to do to achieve this effect, it boggles the mind. In an age where "computers did it" is the final answer to most moviemaking questions, the blood, sweat and tears evident in every handcrafted frame of Anomalisa represent a serious technological achievement.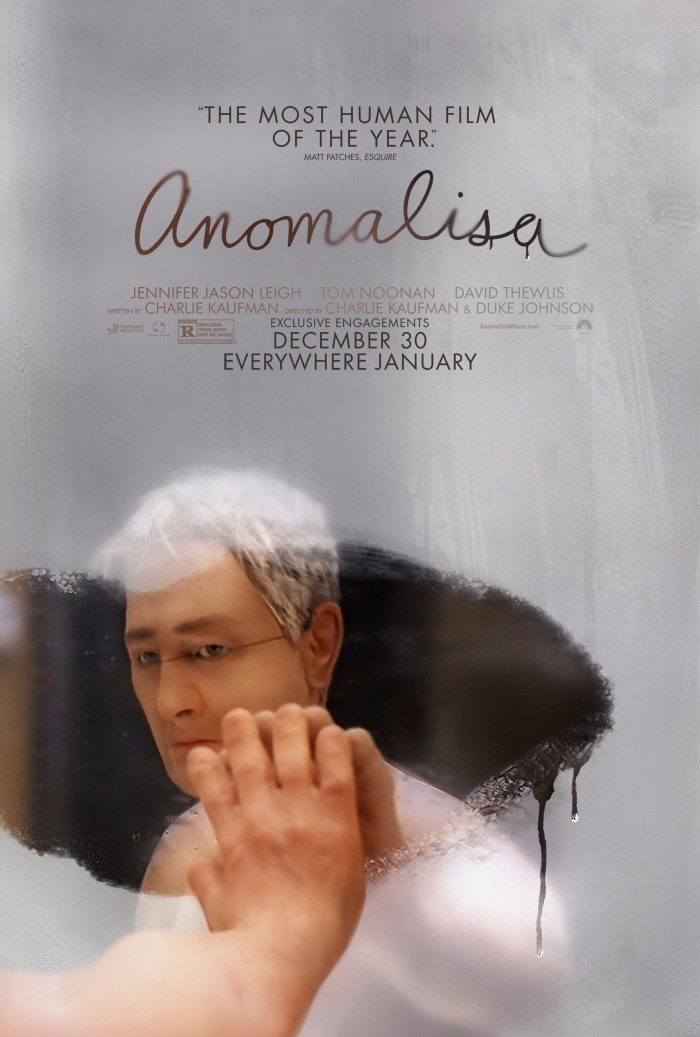 In other words, the animation awards at the Oscars this year could get very interesting.
Every character in Anomalisa is fascinating and boldly realized, combining powerful vocal performances from the lead actors with beautiful and expressive animation. Thewlis' Michael may be the lead character, but it's his relationship with Lisa (Jennifer Jason Leigh, having one helluva year between this and The Hateful Eight) that forms the heart of the film. And Tom Noonan's performance deserves to be discovered in a theater.
In case you missed it previously, here's the trailer for Anomalisa, which is a very canny piece of marketing. To say why would be saying too much, but we'll just say that this preview isn't selling everything that makes this movie such a powerful experience.
Anomalisa opens in limited release on December 30 before expanding in January. Here's the official synopsis:
Michael Stone, husband, father and respected author of "How May I Help You Help Them?" is a man crippled by the mundanity of his life. On a business trip to Cincinnati, where he's scheduled to speak at a convention of customer service professionals, he checks into the Fregoli Hotel. There, he is amazed to discover a possible escape from his desperation in the form of an unassuming Akron baked goods sales rep, Lisa, who may or may not be the love of his life. A beautifully tender and absurdly humorous dreamscape, from the brilliant minds of Charlie Kaufman (SYNECDOCHE, NEW YORK) and Duke Johnson ("Community" episode, Abed's Uncontrollable Christmas), this stop-motion animation wonder features the vocal cast of Jennifer Jason Leigh, Tom Noonan and David Thewlis and a stirring strings-based score by Carter Burwell.  The darkly comedic and surreal stop-motion journey of a man's long night of the soul, ANOMALISA confirms Charlie Kaufman's place amongst the most important of American filmmakers, and announces Duke Johnson as a major creative force.