'Crouching Tiger, Hidden Dragon 2' Trailer: There's A Bad Moon On The Rise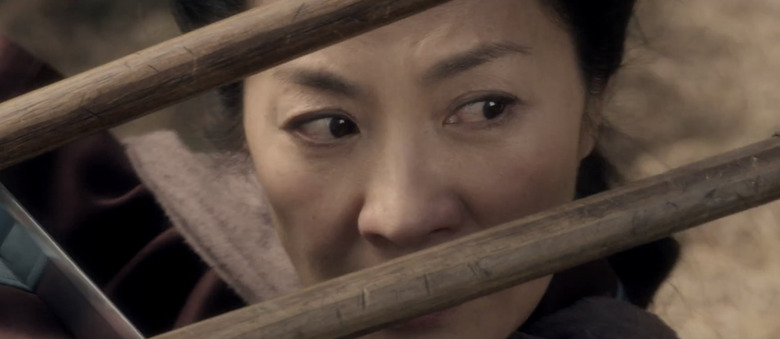 It's been 15 years since Crouching Tiger, Hidden Dragon hit theaters. And while that might seem a little late for a sequel, Hollywood has been obsessed with returning to dormant films for new franchise opportunities. Upon first inspection, Crouching Tiger, Hidden Dragon 2 doesn't seem like the most obvious cash grab for Netflix, but there's a good chance this movie will play big overseas.
Now you can see if this will be something worth checking out as the Crouching Tiger Hidden Dragon 2 trailer has just debuted, showing off plenty of flying and flipping sword-fighting action that everyone loved from the first film.
Here's the first trailer for Crouching Tiger, Hidden Dragon: Sword of Destiny:
Michelle Yeoh is back as Yu Shu-Lien with Donnie Yen playing Silent Wolf with the former being called back into battle with a new evil lord threatens the world, that is if he gets ahold of a legendary sword that will ensure his victory.
Sadly, this trailer isn't doing much for me. The first film hit at a time when wire-fighting and outlandish action sequences were all the rage. And now this just feels like it's 15 years too late. There's some pretty great choreography on here and beautiful scenery to stage these incredible fights, but there's also something about it that looks cheap, almost like a TV series instead of a film sequel. Plus, it's hard to get excited about this kind of action when there are movies like The Raid 2: Berandal out there.
But maybe I'm in the minority, because Netflix obviously thought this was something good enough to invest in. So did IMAX, who will be releasing it on the giant screen at the same time it hits the streaming service next February. There was some controversy with theater owners last year when the deal came through with chains already refusing to show the movie due to the Netflix deal posing a threat to their business model. This may not be the best test to see if that's true, but analysts will likely be paying attention.
Oh, and for those curious, that song in the trailer is a cover of Creedence Clearwater Revival's "Bad Moon Rising" by Palestra, featuring Candace Devine. Will studios ever get sick of creepy, slowed down versions of popular songs in movie trailers?
Crouching Tiger, Hidden Dragon: Sword of Destiny also stars Harry Shum Jr. (Glee), Jason Scott Lee (Seventh Son), Roger Yuan (Bulletproof Monk), Eugenia Yuan (Revenge of the Green Dragons) and newcomer Natasha Liu Bordizzo, and it hits Netflix and select IMAX screens on February 26th, 2016.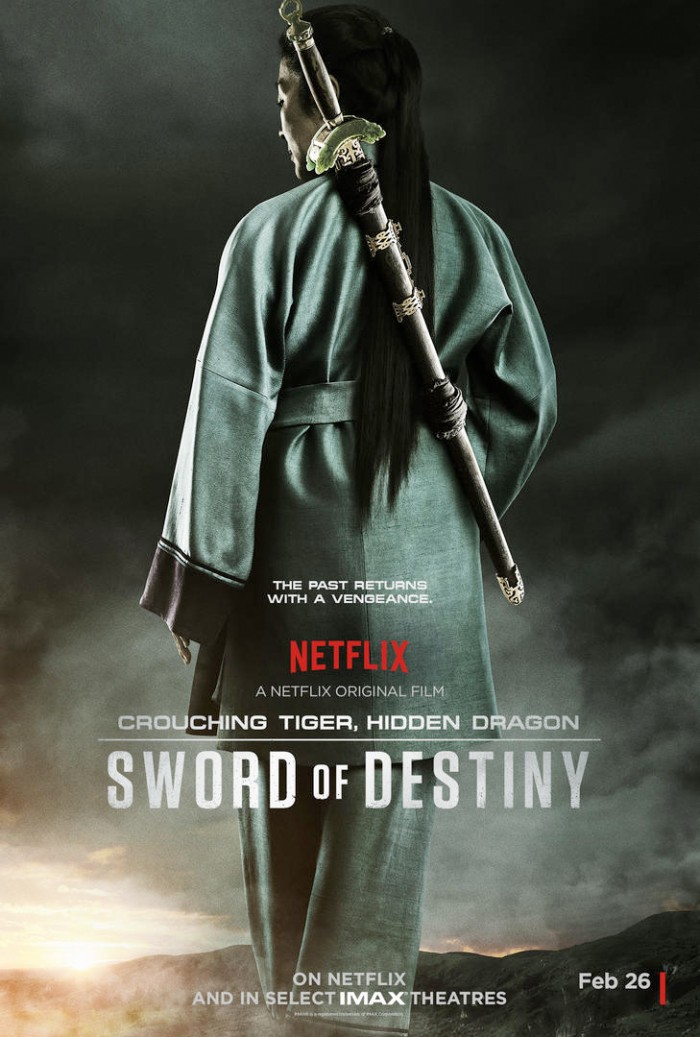 Crouching Tiger, Hidden Dragon: Sword of Destiny tells an epic story of lost love, young love, a legendary sword and one last opportunity at redemption, set against breathtaking action in an epic martial arts battle between good and evil that will decide the fate of the Martial World.
Directed by the renowned martial arts choreographer (The Matrix Trilogy and Kill Bill 1& 2) and director (Tai Chi Master) Yuen Wo-Ping, Crouching Tiger, Hidden Dragon: Sword of Destiny stars Michelle Yeoh (Crouching Tiger, Hidden Dragon, The Lady) as Yu Shu-Lien and Donnie Yen (Ip Man 1&2, Monkey King 3D) as Silent Wolf.
Based on the acclaimed novel, Iron Knight, Silver Vase, by Wang Dulu (book 5 in the Crane-Iron Pentalogy) and written by John Fusco (Marco Polo) the new film is produced by Harvey Weinstein (Academy Award winner – The King's Speech, The Artist) and Peter Berg (Emmy Award winner – Friday Night Lights; Lone Survivor, Hancock) and Sarah Aubrey (Friday Night Lights; Lone Survivor, Hancock) and executive produced by Morten Tyldum (Headhunters, The Imitation Game), Ralph Winter (X-Men franchise), Anthony Wong and Bey Logan (The Medallion).