Star Wars Bits: Carrie Fisher Comments On "Slave Leia" And Harrison Ford Does His Best "Frozen In Carbonite" Impression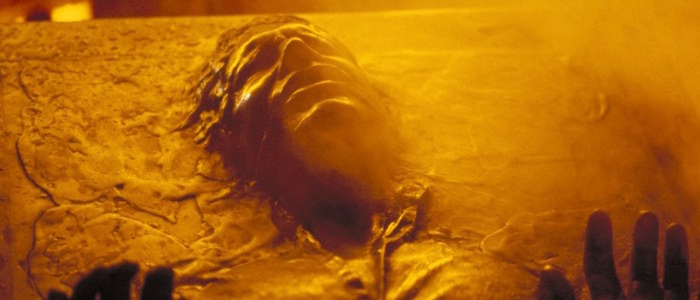 Star Wars: The Force Awakens is less than two weeks away and the anticipation must be killing you. So why don't you rub some Star Wars Bits on your aching joints to help ease the tension. Yes. Feels good, right? This particular batch includes:
Christopher Lee's niece is playing a role in The Force Awakens.
Carrie Fisher's hilarious, brutally honest comments on the "Slave Leia" controversy.
A look at Hot Toys' new Rey figure.
The Greg Grunberg Star Wars toy you've always wanted.
Harrison Ford doing his best "frozen in carbonite" face.
A fresh look at Oscar Isaac as Poe Dameron.
A new TV spot with just a enough new footage to be worth your time.
And more!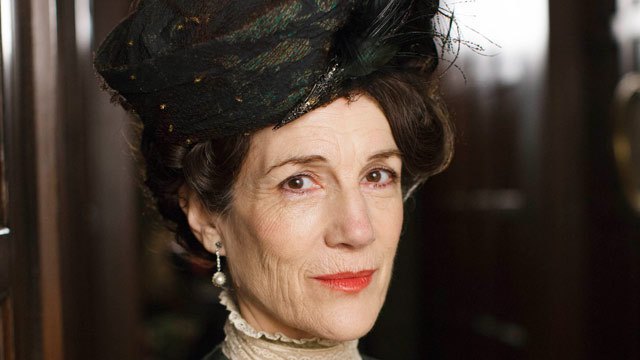 British actress Dame Harriet Mary Walter is currently acting in an all-female production of William Shakespeare's Henry V and among the credits listed in the show's playbill is a little movie called Star Wars: The Force Awakens. This news story could begin and end with "Wow, how are we still finding new actors who are in this movie?" but there's a little more than that. Walter, who played Lady Shackleton on Downton Abbey, is the niece of the late, great Christopher Lee, the legendary actor who played Count Dooku in the Star Wars prequels. As Making Star Wars points out, her casting may have been the source of false rumors about The Force Awakens involving a descendant of Dooku.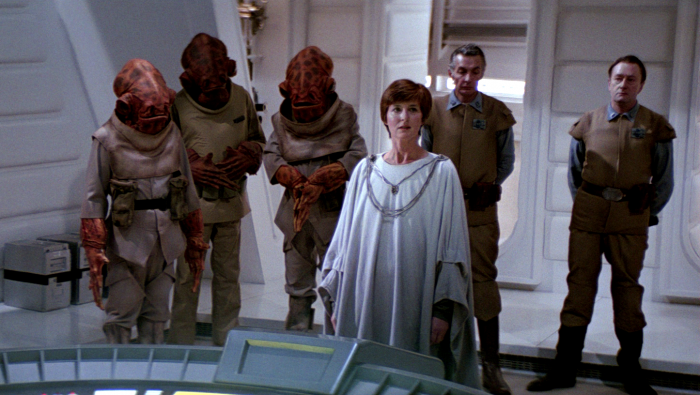 If you're wondering why it's so important that future Star Wars movie feature more roles for female characters, look no further than this video. Here is every single line of original trilogy dialogue from female characters not named Princess Leia collected into one spot. The result: a few lines from Aunt Beru, a statement from a rebel communications expert on Hoth, and Mon Mothma's brief Return of the Jedi speech. It's kinda depressing. It's likely that Star Wars: The Force Awakens, which features female characters like Daisy Ridley's Rey, Carrie Fisher's Leia, Lupita Nyong'o's Maz Kanata, and Gwendoline Christie's Captain Phasma, will have more for women to do than all three of the original movies combined.
Speaking of female characters, new shots of Leia and Rey have popped up on Imgur, giving us a glimpse of Fisher and Ridley in costumes we haven't seen before. Leia appears to be dressed for some kind of celebration. Rey appears to be dressed for some kind of journey. Go ahead and full in the blanks for yourself (or just wait 10 more days).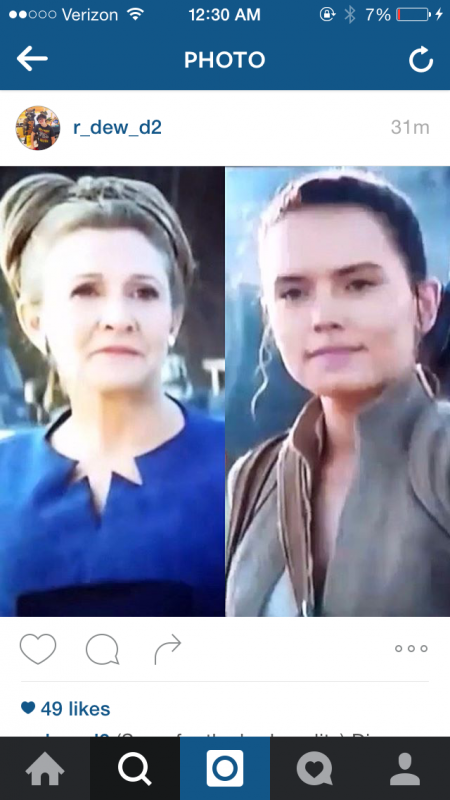 And before we drift into other subjects, let's take a moment to applaud Carrie Fisher, whose leg of the Star Wars promotional tour has easily been the most entertaining of the all the actors involved. Brutally honest and hilarious, she's spent the past few weeks speaking her mind and not caring what anyone thinks about her. When asked about the recent controversy over Disney discontinuing all "slave Leia" merchandise, Fisher had this to say:
The father who flipped out about it, "What am I going to tell my kid about why she's in that outfit?" Tell them that a giant slug captured me and forced me to wear that stupid outfit, and then I killed him because I didn't like it. And then I took it off. Backstage.
In a separate interview, she followed that up with similar thoughts:
How about telling his daughter that the character is wearing that outfit not because she's chosen to wear it. She's been forced to wear it. She's a prisoner of a giant testicle who has a lot of saliva going on and she does not want to wear that thing and it's ultimately that chain, which you're now indicating is some sort of accessory to S&M, that is used to kill the giant saliva testicle... That's asinine.
As much as we appreciate Fisher's hilarious, straightforward quotes, it does seem like she may not quite understand why most female fans take issue with this toy. They have taken umbrage with "slave Leia" merchandise not because it exists, but because it is frequently the only depiction of Leia in the toy aisle. Still, Fisher is a national treasure and we should be thankful for every single thing she says.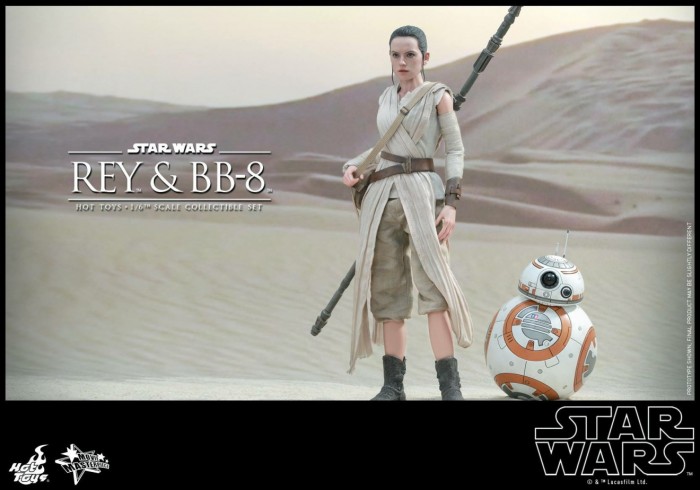 In any case, we're most certainly not going to see Daisy Ridley's Rey in a gold metal bikini anytime soon. However, those hoping to have a tastefully clothed version of the new The Force Awakens heroine on their shelf can look to Hot Toys, the purveyors of the most impressive (and expensive) figures and statues on the market. Bonus: she comes with a little BB-8! Bah, who needs to pay the mortgage this month?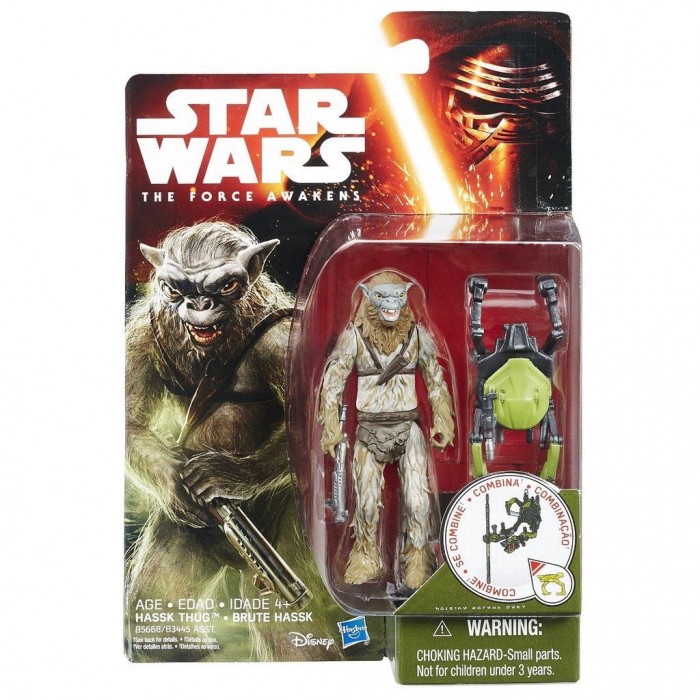 The folks at Jedi Temple Archives have snagged images of two new The Force Awakens toys. Above, you can see the "Hassk Thug," who is probably another one of those minor, background aliens who will get his entirely backstory fleshed out in various novel tie-ins over the years. Far more interesting is the set below, which contains a First Order Snowtrooper Officer and a Rebel pilot named Snap Wexley. Two quick notes on Mr. Wexley: he shares a last name with Norra and Temmin Wexley, two of the main characters from the Star Wars: Aftermath novel (which takes place right after Return of the Jedi) and he seems to resemble character actor Greg Grunberg, J.J. Abrams' buddy/good luck charm who we know is in the movie. So there you go.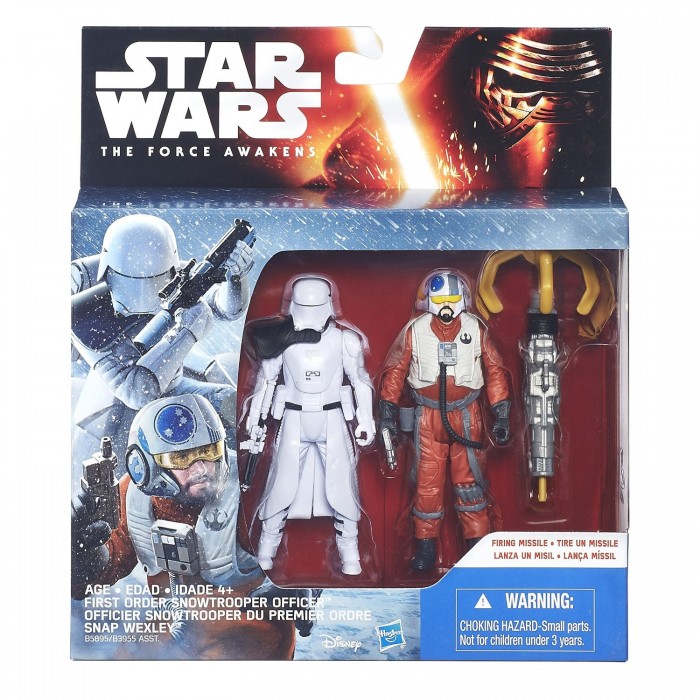 No one outside of a few key circles has seen Star Wars: The Force Awakens, but the press junket has already begun. Normally, watching people interview actors about a movie they haven't seen yet is pretty boring, but this is the cast Star Wars – they have plenty to talk about it. In any case, you should at least watch the collection of video interviews below to see Harrison Ford do his impression of Han Solo frozen in carbonite.
The official Star Wars Twitter account has revealed a new a new promo shot of Oscar Isaac as Resistance X-Wing pilot Poe Dameron. Beyond simply reminding the world that Mr. Isaac is one damn handsome man, this tweet also confirms what we've expected ever since the earliest set photos – Poe Dameron's call sign is "Black Leader," a reference to the slick, black X-Wing that he pilots at some point during the film.
Black Leader: standing by. #TheForceAwakens pic.twitter.com/mTPUPqaiaO

— Star Wars (@starwars) December 5, 2015
Speaking of X-Wings, the SM Mall of Asia in Bay City, Pasay, Philippines has a life-size version of the iconic star fighter just sitting around for photo opportunities. Note the blue color scheme, which indicates that this version of the fighter is from the Force Awakens era (as seen in the trailers). As far as marketing stunts go, dropping one of the most iconic spaceships of all time into the middle of a mall is rock solid.
LOOKIE WHAT I FOUND! @starwars #TheForceAwakens pic.twitter.com/YJsHFe7pl0

— Guiseppi Protacio (@gzep) December 6, 2015
Yet another new TV spot for The Force Awakens has arrived and it probably contains about five seconds of new footage. Maybe seven seconds, it we're being generous. Still, those five seconds are pretty cool gel with everything we've seen so far. Bonus: Finn speaks! For about the fourth time!