The Best & Worst Sketches From Ryan Gosling's 'Saturday Night Live'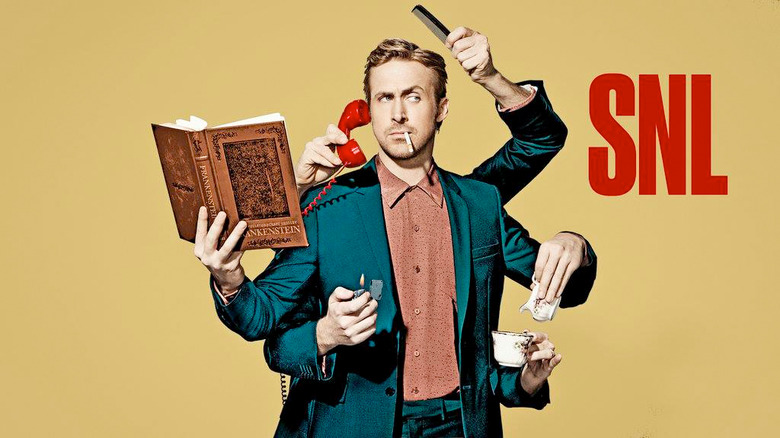 Kicking off the final three episodes of Saturday Night Live that we'll get in 2015, The Notebook and Drive star Ryan Gosling took the stage at Studio 8H for his hosting debut. You never know what you're going to get with a first-time host from an actor with a career like Gosling's, but this episode was an absolute delight, helped occasionally by the fact that sometimes he had a hard time keeping a straight face on live television. Plus, one favorite SNL veteran stopped by for the monologue.
So let's break down all the Ryan Gosling Saturday Night Live sketches below!
The Best
Santa Baby – The Quentin Tarantino font for this short's title isn't a coincidence, because this is like a holiday movie by way of the beloved filmmaker. Ryan Gosling and Vanessa Bayer are perfect turning on a dime whenever they get deadly serious about Santa Claus. I had to pause this sketch after Gosling smashed the candy cane and delivers his line because I was laughing so hard. This is a hilarious, twisted sketch and I loved everything about it, including the fact that Santa Claus really does exist in this world.
Nespresso – First, just be aware that if you haven't seen this commercial with the real George Clooney and Danny DeVito then this might not be as funny. Two episodes in a row with Bobby Moynihan playing Danny DeVito? Yes, please! I love how this pokes fun at the fact that the Nespresso commercial doesn't really make any sense. Why Clooney and DeVito?! It's like a sequel to Twins where all movies are just advertisements. Major points for faux DeVito asking Clooney if they were in Batman together.
Close Encounter – Every episode there's a reason to be thankful for Kate McKinnon, and this one was no exception. It should be noted that I had a hard time choosing between these three sketches for which was the best of the night, and on any given day it could be this one. It's been awhile since almost everyone in the sketch couldn't keep a straight face, and it's clearly because McKinnon is amazing as this small town woman who had a terrible alien abduction experience. She's even smoking a real cigarette!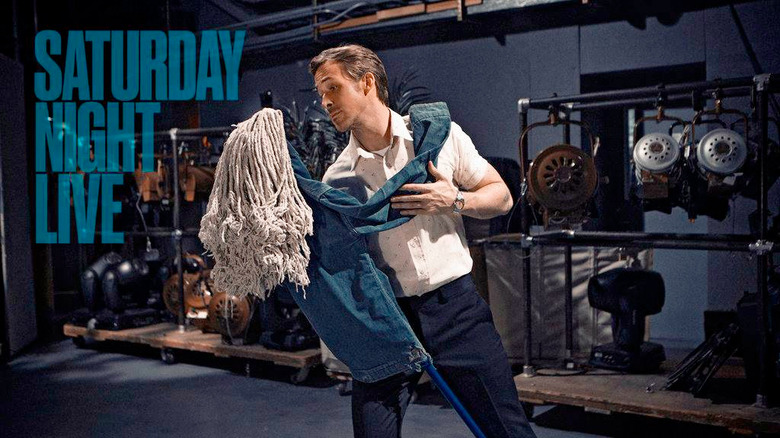 The Average
The Wiz – This is NBC, so of course we can't have a new episode of Saturday Night Live without calling attention to last week's live production of The Wiz. In this one, east meets west with Ryan Gosling as the Scarecrow from The Wizard of Oz getting lost on the west side after falling asleep on the train. Kudos to Gosling for really throwing himself into this role, even if he sounds a bit more like Snagglepuss than the Scarecrow. There's some solid racial humor here, and look how dressed up Michael Che had to get! Great costume and set design, by the way.
Hometown Bar – As with a few sketches of the night, the pacing was a little weird, mostly due to Gosling pausing a little too long to let laughter die down, but this one was the worst culprit (not to mention having some other technical issues with cuts). This sketch was still pretty amusing, but mostly due to Kyle Mooney's silly character rather than the writing of the sketch itself.
Santa and the Elves – When this sketch was previously attempted during last season's Louis CK hosted episode, it didn't work so well. This time it worked a little better, and maybe because it got the 10-to-1 slot where the weirder sketches usually go. But it might also be because it's so funny seeing Gosling as one of these not so subtly horny elves. His facial expressions definitely won me over for some laughs.
Birthday Party – There's a part of me that was thoroughly creeped out by a 13-year old girl hitting on a Dad this hard, but that's obviously why it's supposed to be funny. The awkwardness went away after a couple minutes, and there are some laughs to be had, but that mostly seems to be due to Gosling's reactions during the sketch. Gotta give credit to Aidy Bryant for really going at this one 100% though.
The Worst
Settl – In theory, this is a really funny idea. But the execution almost feels lazy. They went for the easy jokes about awkward men and dates for this commercial when I feel like they could have dug a little deeper for an app that helps you settle for a significant other when you're just sick of waiting. Maybe doing both sides of the dating game would have worked a bit better?
Donald and Melania Trump Christmas – Donald Trump just seems to be too ridiculous nowadays on his own to be able to adequately make fun of him in sketch comedy form. He's always been ridiculous, but his presidential campaign has amplified that to 11, and Taran Killam just isn't as wild as the real Trump. But at least he has his facial expressions locked down.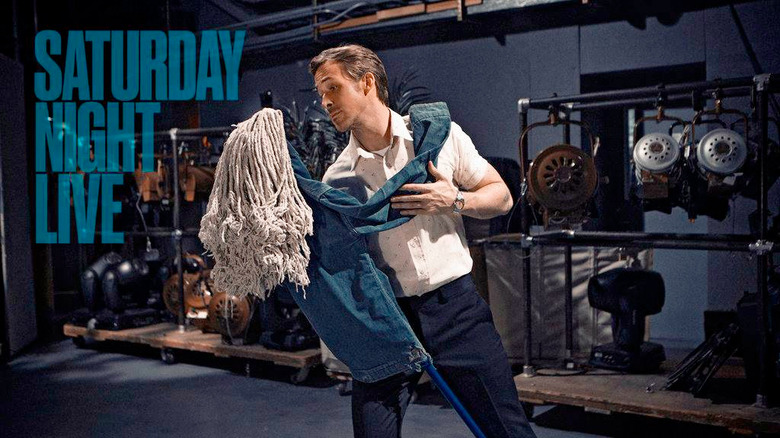 Weekend Update
This edition of Weekend Update didn't quite have the chemistry that Michael Che and Colin Jost have had in the previous few episodes, but there was still some solid banter between the two for one quick moment. I don't know why Che and Jost aren't as loose during update as they are when they're interacting with segment guests. Speaking of which...
Jill Davenport from Glamour – This just has to be inspired by a real journalist that a writer or cast member encountered, because I've seen people (both men and women) just like this among the real press out there. Cecily Strong nailed this character, though I think it's only funny for about half the time it went on. But the popsicle gag (no pun intended) was a nice touch to liven it up towards the end.
Anthony Crispino and Angelo Skaggs – Anthony Crispino is one of my favorite characters that Bobby Moynihan does, and seeing Ryan Gosling suit up right next to him as his third-hand news guy was a real treat. From the way they peeked around each other right off the bat to their perfect, in unison, high-pitched skepticism squeal, this was a good stuff. I wish the Charlie Sheen joke was a bit better, but the Star Wars: The Four Jamaicans one made up for it. Also, the reaction Jost gives when Crispino hits and grabs his suit should be the kind of personality he has on Update all the time.
The Host
For his first time hosting, Gosling was clearly a little nervous, flubbing the title of the show right off the bat. But it worked in his favor because he's so charismatic and charming. His breaking during sketches was endearing and didn't often create problems in their execution, though his reading of cue cards and timing could use work. But hey, this isn't an easy gig. Plus, you gotta love that Mike Myers topped by for some Canadian monologue fun, almost making this feel like a Christmas extravaganza show.
The MVP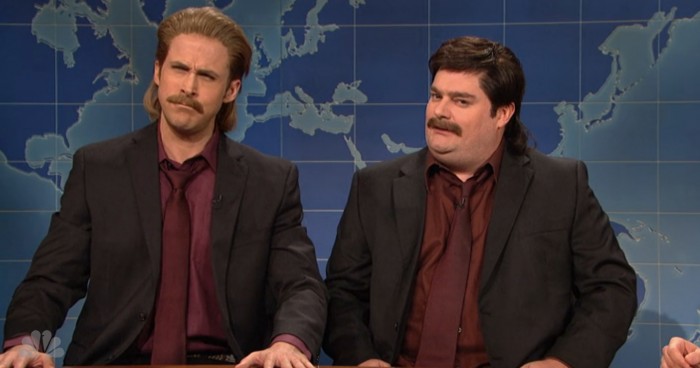 Ryan Gosling – It's not easy for the host to stand out like this, but Gosling really did a good job for his first time on SNL. He had a lot of fun with his characters, and really sold a couple of them beyond expectations, especially Santa Baby and The Wiz. Knowing what Gosling can do comedically from this episode and his work on Crazy Stupid Love and just the trailer for The Nice Guys, I hope we get to see him in a lot more comedies soon. He can also come back and host SNL anytime. Bobby Moynihan was definitely the runner-up though.
The Final Word
There was so much fun and holiday stuff in this episode that I hope the writers saved some for the final episode of the year when Tina Fey and Amy Poehler pull double duty as hosts. There will likely be a lot of greatest hits moments in that episode, so maybe that's why some of this Christmas stuff came out now instead of being held for the actual Christmas episode. Anyway, I think this episode was actually better than Matthew McConaughey's last week as far as the writing quality goes, and I have a feeling one of the best sketches from this episode may end up being one of my favorite of the entire season when all is said and done. We'll see.