Watch Young Daniel Radcliffe's Adorable Audition For Harry Potter From 2000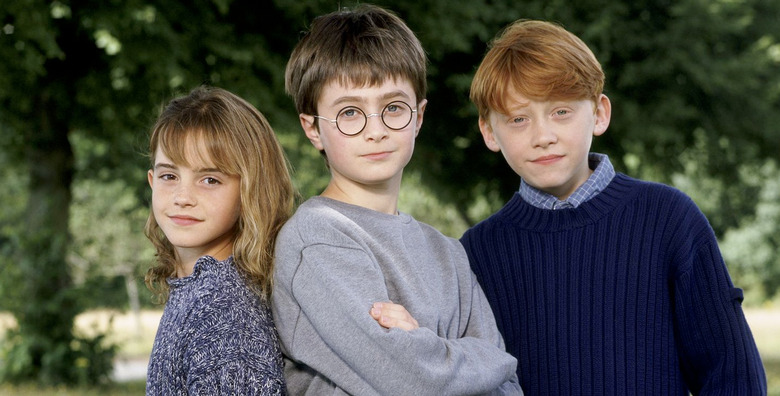 It's been 14 years since Harry Potter and the Sorcerer's Stone hit theaters in November of 2001, and since then the young stars of the franchise have grown up in front of our eyes, blossoming into fine young actors (though some are doing more than others). And if you're looking for a trip down memory lane this weekend, you might want to check out this Harry Potter audition video, showing young Daniel Radcliffe being as cute as ever as he plays opposite director Chris Columbus.
Here's the Harry Potter audition video (via Mashable):
This video has been around for a few years, first appearing as a special feature on one of the Ultimate Editions of the Harry Potter movies on home video. But unless you're scouring the internet for Harry Potter all the time, there's a good chance you missed it, so here we are.
The first scene used in the audition reel is where Hagrid shows Harry, Ron and Hermione the dragon egg he's acquired from someone down at the pub. Radcliffe is a little nervous, and has a cute little smile on his face when Columbus tries some alternate lines or nudges him in the right direction for Potter's dialogue. But it's fascinating to see how quickly he gets in character when delivering lines.
But even more interesting is the second scene, which comes from Harry Potter and the Prisoner of Azkaban. The scene in question is when Ron and Hermione try to tell Harry he shouldn't go after Sirius Black after he's just learned that he might be partly responsible for the death of his parents. Columbus and the producers must have wanted to see how Radcliffe would handle future scenes as he grew up and more would be required of him as an actor, especially with an emotional scene like this.
Radcliffe and Columbus run through the scene a couple times, but you'll want to stick around after that to see Radcliffe try on a couple pair of Potter's signature glasses for the first time. And the rest is history.
If you're interested in seeing more of young Radcliffe, why not check out this other audition video that also features him acting alongside co-stars Emma Watson and Rupert Grint, who would go on to land the parts of Hermione and Ron:
It's the first time the trio can be seen together on camera, and you can see why they all got the parts. And now the world of Harry Potter will expand next year with the spin-off Fantastic Beasts and Where to Find Them, arriving on November 18th, 2016. Get a first look at the movie right here.