George Lucas Has Seen 'Star Wars: The Force Awakens', But What Did He Think?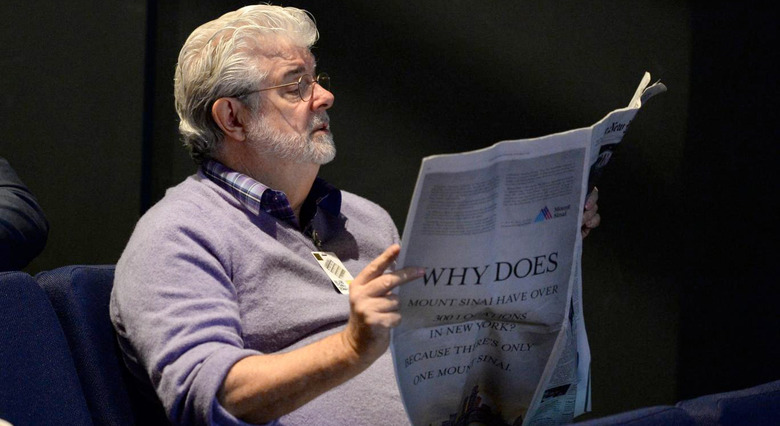 As of the end of November, Star Wars creator George Lucas hadn't seen a single frame of the forthcoming saga continuance, Star Wars: The Force Awakens. But here we are just six days later and that has changed entirely.
Lucasfilm president Kathleen Kennedy revealed that Lucas will be attending the premieres of the movie in Los Angeles and London, but he's actually already seen the entire movie. So the question is, what does the man who gave us the galaxy far, far away think about this new chapter in the franchise? Find out below!
Kennedy told THR that "he really liked it." That's not exactly a ringing endorsement, but she probably doesn't want to be hyperbolic or put any words in Lucas' mouth. And it's nice to hear Lucas enjoyed the movie, especially since Kennedy said he had a hard time "watching this go on without his direct involvement. At the same time, he really wanted to step away."
Just recently Lucas commented about how he had to treat his sale of Lucasfilm and Disney's disinterest in his idea about where the story should go next as any other break-up:
"The issue was ultimately, they looked at the stories and they said, 'We want to make something for the fans.' People don't actually realize it's actually a soap opera and it's all about family problems – it's not about spaceships. So they decided they didn't want to use those stories, they decided they were going to do their own thing so I decided, 'Fine.'
They weren't that keen to have me involved anyway. But at the same time, I said if I get in there I'm just going to cause trouble. Because they're not going to do what I want them to do. And I don't have the control to do that anymore. All I would do is muck everything up. So I said, 'Okay, I will go my way, and I'll let them go their way.'"
Kenney echoed Lucas' own sentiments, knowing very well how the filmmaker operates:
"If there's one thing I've learned about George is it's that he's never, ever held back. Having him 100 percent on board is up to him and he can't do that unless he's running everything."
It'll be interesting to see what kind of public statements Lucas makes about Star Wars: The Force Awakens once press talk to him at the premiere. Surely Disney and Lucasfilm still want his seal of approval on the movie, even if they didn't want his take on the story after buying Star Wars from him. And even though Lucas may have tainted Star Wars for some with the prequels, there are still plenty of fans who will feel more comfortable about the movie knowing George Lucas watched The Force Awakens and liked it.
Back when he still hadn't seen the film, Lucas continued his relationship metaphor with The Washington Post, saying that eventually he would have to see the movie:
"I gotta go to the wedding. My ex will be there, my new wife will be there, but I'm going to have to take a very deep breath and be a good person and sit through it and just enjoy the moment, because it is what it is and it's a conscious decision that *I* made."
Unlike most weddings, this is one that we're all looking forward to quite a bit, even though there won't be an open bar. But just like a wedding, you can bet if there are any single people at the wedding, they are going to get hit on pretty hard. Finding a good, nerdy significant other is tough.
Star Wars: The Force Awakens opens December 18th, but you already knew that.