'The Nice Guys' Red Band Trailer: Russell Crowe And Ryan Gosling "Buddy Cop" Their Way Around 1977 Los Angeles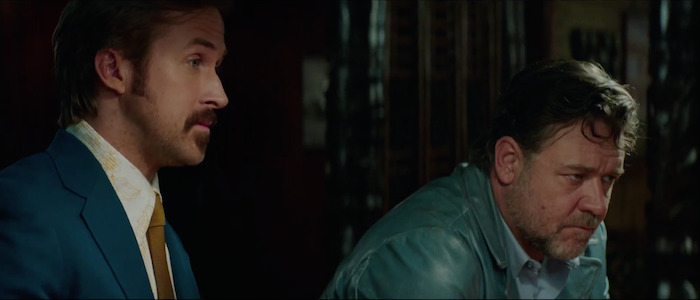 Neither of the main characters in The Nice Guys are police officers, but the film undoubtedly falls into the familiar "buddy cop" formula that we've seen time and time again – two mismatched guys who don't like each other and have little in common are forced to work together to solve a case. We've seen this story few dozen times before. However, The Nice Guys is the latest film from Shane Black, who is the undisputed master of the "frenemies solve a case" subgenre of action/comedy. He's like a chef who always makes the same dish, but the flavors are so good that you don't care.
The first red band trailer for The Nice Guys is here and it looks like a Shane Black movie through and though. Which is a good thing, because he is really, really good at making movies.
The Nice Guys follows a criminal fixer-type (Russell Crowe) who finds himself embroiled in the mystery surrounding a young woman's suicide. Naturally, the only guy who can help him is a seemingly incompetent private detective (Ryan Gosling) who he has previously roughed up as part of another job. Can these two put aside their differences to solve the case, battle the mob, and escape the Los Angeles underworld of 1977 with their lives? Probably, but a whole bunch of people are probably going to die along the way.
And this is a red band trailer filled with language and nudity and violence. So unless you work in the corner cubicle, wait to watch this one at home.
Let's break out the Shane Black Bingo card, shall we? Two mismatched lead characters forced to work together. Check. A central mystery that sounds simple but soon reveals itself to deeper than anyone expected. Check. Casual, tough-guy posturing from a character whose bite is as strong as his bark. Check. Extreme violence tinged with pitch-dark comedy. Check. When it comes to hitting the Shane Black beats, this movie is only missing "set during Christmas."
Black is, of course, the screenwriter best known for writing Christmas-set "buddy cop" action comedy mysteries like Lethal Weapon and The Long Kiss Goodnight. More recently, he's taken up directing, helming Christmas-set "buddy cop" action comedy mysteries like Kiss Kiss Bang Bang and, uh, Iron Man 3. Even when he's making movies for Marvel, Black sticks to his wheelhouse.
But why should he leave when that wheelhouse is the perfect place to showcase his caustic wit, eye for unique action, and unmatched ability to write snappy, mean-spirited banter? If The Nice Guys can capture the same combination of filthy noir and wild comedy that made Kiss Kiss Bang Bang a modern classic, then it could be something special. Crowe and Gosling do seem to have a real Robert Downey Jr./Val Kilmer thing going on in that trailer.
The Nice Guys is set to open on May 20, 2016. You can also check out the first poster below.