'The UCB Show' Trailer: The Upright Citizens Brigade Gang Has A New Comedy Home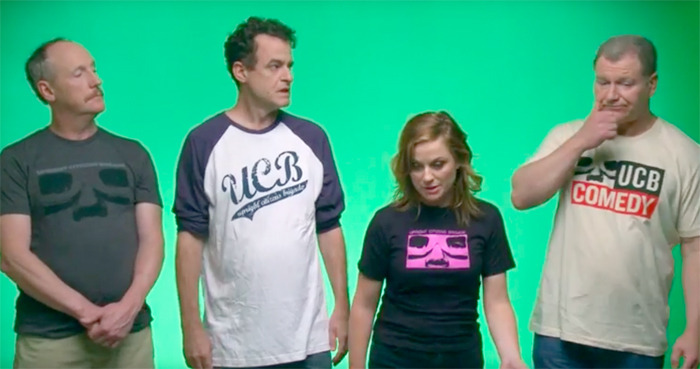 If you're a comedy fan, then you've probably heard of the Upright Citizens Brigade. The improv troupe formed by Matt Besser, Amy Poehler, Ian Roberts, Matt Walsh, Adam McKay, Rick Roman, Horatio Sanz and Drew Franklin emerged out of Chicago in the early '90s and went on to get its own TV show on Comedy Central for three seasons, as well as open two world-famous improv theaters in Los Angeles and New York City.
Now Poehler, Roberts, Walsh and Besser are back with a new project called The UCB Show for an exciting new online comedy subscription service called Seeso.com. You will undoubtedly find something in the comedy world that you love on the site, whether it's old favorites like Parks and Recreation and 30 Rock or just plain old stand-up and improv. Check it out!
First, here's The UCB Show trailer showing off the live improv showcase show:
And here's a little video explaining what Seeso is to those who have never heard of it:
Seeseo is a pretty new endeavor, and it's actually in beta right now for free until early January when it launches to paid subscribers for $3.99 a month. I know it's starting to get hard to keep track of all your subscription services, but if you're a comedy nerd, this is one that you might want to think about signing up for.
Since it's owned by NBCUniversal, it has plenty of episodes from other NBC shows such as  Saturday Night Live, The Office (both US and UK versions), The Tonight Show with Jimmy Fallon, Late Night with Seth Meyers and more. But it also includes episodes from other shows such as Kids in the Hall and the stand-up showcase Funny as Hell, right along with a slew of British comedy like Monty Python's Flying Circus, A Bit of Fry and Laurie, The World of Alan Partridge and Fawlty Towers.
If you're wondering why you'd want to pay for a bunch of old shows, that's not all Seeso offers. They also have a bunch of exclusive new shows such as The Cyanide and Happiness Show (inspired by the web comic of the same name), Harmonquest with Dan Harmon, Sammy J & Randy in Ricketts Lane, Hidden America with Jonah Ray, Thingstarter, and Bajillion Dollar Propertie$, just to name a few
But the real selling point for me is The UCB Show, featuring live improv comedy shot from the UCB's new theater in Los Angeles. If you're happen to be on the East or West coast, take it upon yourself to check out a UCB Theatre show. The tickets are cheap, the shows are great, and more often than not, someone that you've seen on movies or TV will stop by to do some improv or stand-up. When I lived in Los Angeles for a short time, I met some of my favorite comedians, got to see them try out new material for the first time, and laughed my ass off.
If you want to get into the free beta of Seeso for a month, just go to Seeso.com and click on the corresponding button to join the beta. You'll be asked some kind of trivia question about one of the comedy shows featured on the website, and if you get it right, you'll get an access code to join in the fun. Not all the original shows are available yet, but The UCB Show's first episode is there with plenty of other good stuff worth checking out.