Mark Hamill Finally Revealed As A Stormtrooper... In Omaze's Latest 'Star Wars' Charity Push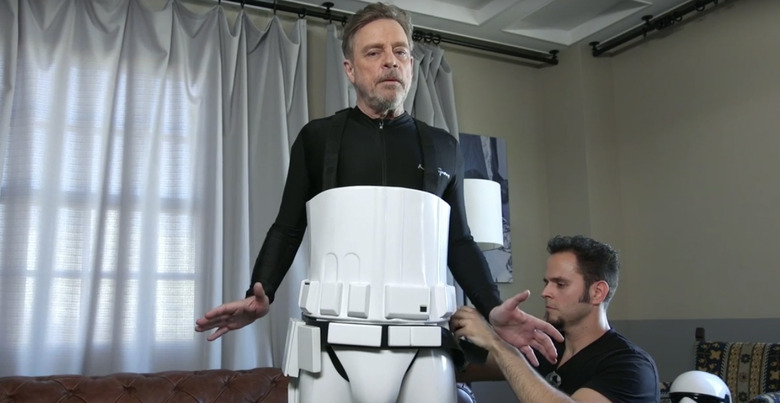 The last time we saw Mark Hamill in Stormtrooper gear, it was when he teamed up with Harrison Ford as Han Solo to rescue Carrie Fisher as Princess Leia from the detention level of the Death Star (cell block 1138) in the original Star Wars. And the actor reminds us of that very fact when he puts on the white armor again (though it's the updated First Order Stormtrooper gear), this time for a new Omaze charity video that has him walking Hollywood Blvd., with fans completely unaware that they just interacted with Luke Skywalker.
Here's the Omaze charity video from the Star Wars YouTube channel:
Hamill really has some fun in this video, starting as soon as he walks out of his hotel room in full costume, pretending to use the Force to open the elevator doors. I'm pretty sure that's something every fan has done with some kind of automatic door at least once in their life. He even looks for some power converters and a nearby cell phone accessory booth, and he's not nearly as whiny about it this time.
As Hamill tells people about the Force for Change charity push from Omaze, where you can win a ticket to the premiere of Star Wars: The Force Awakens, he just flat out tells people that the suit isn't very comfortable and he can't see very well. But no one knows it's old Luke Skywalker under there, not even when he encounters Darth Vader and another Stormtrooper somewhere on the Walk of Fame. I guess the dark side clouds everything.
You can go to Omaze right now to donate and be entered for a chance to win a prize package with all this:
You'll be transported to the red carpet premiere (Los Angeles or London)
Meet cast members, walk the red carpet, and experience the magic of Star Wars on a silver screen for the first time in ten years.
Your flights and 4-star hotel are covered.
And of course, this is all to support Star Wars: Force for Change's mission, a movement to support the immense passion and goodwill of the Star Wars fanbase and promote change through inspiration, stories and meaningful partnerships.
Plus, you'll be benefiting a whole bunch of good causes handpicked by the stars and crew of Star Wars: The Force Awakens. It's a win-win for everyone, because even if you don't actually win the contest, you should still feel good about yourself.