Jason Priestley To Direct Biopic About 'Saturday Night Live' Veteran Phil Hartman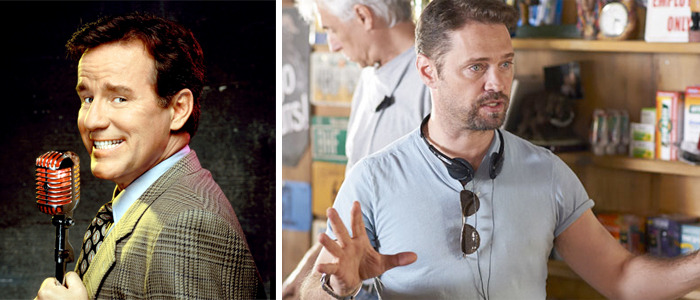 In what sounds like one of the strangest assemblies of talent I've heard of in awhile, former Beverly Hills 90210 star Jason Preistley is looking to get behind the camera as director of a biopic about the late comedian and Saturday Night Live veteran Phil Hartman. The project is called Nice Guy Phil, and it even has an actor on board to play the title comic known for his laser accurate impressions. Get the details on the Phil Hartman biopic below!
Variety reports Daran Norris, best known for voice roles on animated shows such as Fairly Oddparents, Big Time Rush and The Spectacular Spider-Man (and to Veronica Mars fans as Cliff), will play Hartman in the movie that has been in development for several years with the full cooperation of his family's estate.
The script comes from Jonas Chernick, who has written films such as My Awkward Sexual Adventure and Lucid, with Toronto production company Carousel Pictures producing by way of Tyler Levine. The producer said the film would focus on the challenges Hartman faced both comedically and emotionally, and as any comedian can tell you, many times those things go hand in hand. Levine says:
Comedians are notoriously complex people and Phil was no exception. Anyone that knew him always says that he was the nicest guy they ever met.
Priestley is coming on board to direct the film following his recent directorial debut with a feature called Cas and Dylan in 2013. It's not clear what drew him to the project, but Priestley hosted Saturday Night Live back in 1992 at the peak of his career on Beverly Hills 90210, and says that he and Hartman "stayed in touch" and "he was always very warm and gracious."
Aside from his time on SNL, Hartman also starred in the comedy series NewsRadio and voiced characters on The Simpsons. Plus, he starred in movies such as Houseguest, Sgt. Bilko and Jingle All the Way, not to mention the SNL movie Coneheads as well. Sadly, his final movie was Small Soldiers in 1998 because his wife Brynn killed him in his sleep and committed suicide several hours later.
Norris has some big shoes to fill since Hartman is one of the more revered cast members of Saturday Night Live, best known for his incredible impressions which included President Bill Clinton, President Ronald Reagan, Frank Sinatra, Ed McMahon, Charlton Heston and Phil Donahue. Personally, I always loved when he appeared alongside Dana Carvey's Johnny Carson:
Looking at the actor's resume, it's clear he has the talent for voicework that will make impersonating Hartman and his own impressions easily, but playing this role will require much more than that. Priestley isn't worried about that after a friend suggested Norris to him for the role and the actor campaigned hard for the part. Priestley adds, "He looks quite a bit like Phil and he's an expert at voices." Still, he's not inspiring much confidence for my taste.
I just have a bad feeling that this will have the quality of a made-for-TV movie. For all the musical biopics out there that hit the same beats, if this was a script that was really worth seeing come to life on the big screen, I feel like it would have attracted some more big name talent. It would be great to see Hartman get his due diligence in a movie about his life, but I feel like this won't be it. But I would love to be proven wrong.