The New York Film Critics Circle Names 'Carol' The Best Movie Of The Year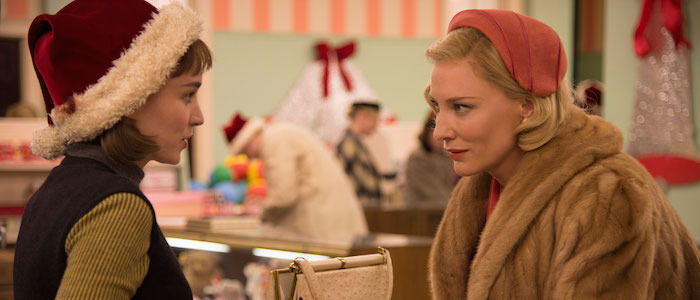 As we wade deeper and deeper into the 2015 awards season, one thing has become increasingly clear: there are almost no frontrunners in any category. A number of "sure thing" predictions from a few months ago, like Leonardo DiCaprio finally taking home an Oscar statuette for The Revenant, now feel a little more embattled. So far, the early awards from various groups of critics have reflected this. The only movie practically guaranteed to win an Academy Award early next year is Inside Out (and even Pixar has some serious competition).
In the meantime, all we can do is grab our popcorn and watch the accolades land where they land. In the case of the New York Film Critics Circle, most of those accolades have landed on Todd Haynes' rapturously reviewed drama, Carol. Hit the jump for the complete list of winners from the 2015 NYFCC awards.
Other than Inside Out being awarded Best Animated Film and Son of Saul getting honored in some capacity, this year's NYFCC prizes have zero crossover with yesterday's National Board of Review winners. The top winners from that group (Mad Max: Fury Road, The Martian, Room, Creed, The Hateful Eight) didn't even make a dent with the NYFCC. And while both groups are made up of different critics and represent different mindsets, the total lack of overlap of any kind feels like a taste of things to come. The awards are going to be all over the place this year.
The NYFCC awarded Carol with Best Picture, Best Director, Best Screenplay and Best Cinematographer, making it the only movie in the bunch to take home more than one honor. If there's an upset here, it's Saoirse Ronan winning Best Actress for Brooklyn, but it's entirely possible that Cate Blanchett and Rooney Mara split the Carol vote (which may be a sign of things to come).
Best Actor went to Michael Keaton for Spotlight, which is a pleasant surprise since he's expected to be under consideration as a supporting role at the larger awards (he's terrific in the movie in any case). The Best Supporting Actor honors went to Mark Rylance for Bridge of Spies, only affirming his status as one of the few frontrunners in a very crowded category. Meanwhile, Best Supporting Actress came out of left field, with Kristen Stewart winning for Clouds of Sils Maria. Although acclaimed by critics, that performance seeming had no awards momentum. Could this change things? Maybe? In this year, anything is possible.
Here is the complete list of winners:
Best Picture: Carol
Best Director: Todd Haynes, Carol
Best Screenplay: Phyllis Nagy, Carol
Best Actress: Saoirse Ronan, Brooklyn
Best Actor: Michael Keaton, Spotlight
Best Supporting Actress: Kristen Stewart, Clouds of Sils Maria
Best Supporting Actor: Mark Rylance, Bridge of Spies
Best Cinematographer: Edward Lachman, Carol
Best Animated Film: Inside Out
Best Non-Fiction Film (Documentary): In Jackson Heights
Best Foreign Film: Timbuktu
Best First Film: László Nemes, Son of Saul
Special Award: William Becker and Janus Films
Special Award: Ennio Morricone