'Girls' Season 5 Trailer: Someone Is Getting Married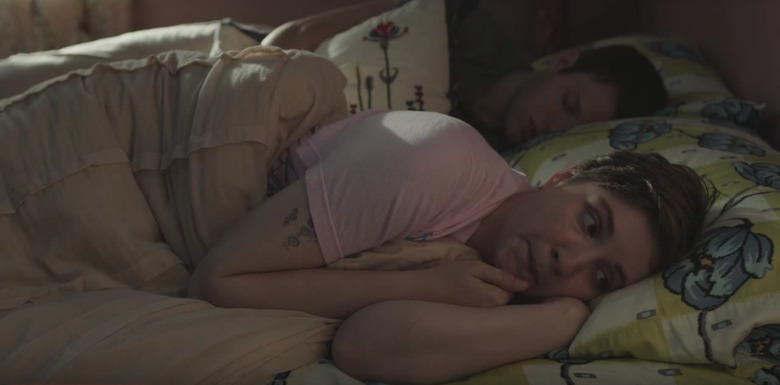 The new season of Girls is coming next February, and the full trailer has arrived, teasing what's in store for these New Yorkers with the biggest first world problems you've ever seen. The trailer says "Girls grow up and grow apart, but friendship is forever complicated." Though from the looks of this trailer, I don't really see any evidence of any of Hannah (Lena Dunham), Marnie (Allison Williams), Jessa (Jemima Kirke) and Shoshanna (Zosia Mamet) growing up at all.
Watch the Girls season 5 trailer after the jump! 
Hannah is in some kind of weird relationship with her gay roommate/ex-boyfriend Elijah (Andrew Rannells) while seemingly in a relationship the uncomfortable and charmingly awkward Fran (Jake Lacey) while Marnie is getting married pretty quickly to Desi (Ebon Moss-Bachrach), her bandmate with whom she engaged in a relationship while he was still with his old girlfriend.
Meanwhile, it looks like Shoshanna is back from her time abroad, complete with some new Japanese style (including that colored hair) and Jessa is just being her old self. Blink and you'll miss Adam Driver. He was pretty busy shooting Star Wars: The Force Awakens while this season was in production, so we probably won't see him much.
Don't forget that this could be the penultimate season of the HBO comedy series as Dunham said back in September that the sixth season could very well be the last:
Never say never, but that is the way that we're thinking about it right now, and we're starting to think about sort of how to wrap up the storylines of these particular young women. It's really exciting. I started working on this show when I was 23. I'm going to be 30, so it kind of feels right that this show kind of sandwiched my 20s and then I go off into the world.
Once Girls is over, I'll be very interested to see what Dunham does with her career as a writer, director and actress. She's got talent, though her style is certainly divisive with a lot of people hate-watching the HBO show, and I have a feeling she's not going anywhere anytime soon.
If you missed the previous teaser trailer for the new season with Lena Dunham dancing like nobody is watching, you can still check that out right here. Otherwise, Girls returns to HBO on Sunday, February 21st along with a new season of Togetherness, a show that you should also be paying attention to.