Mario Kart Gets A Competition TV Show, Because Watching People Play Video Games Is A Blast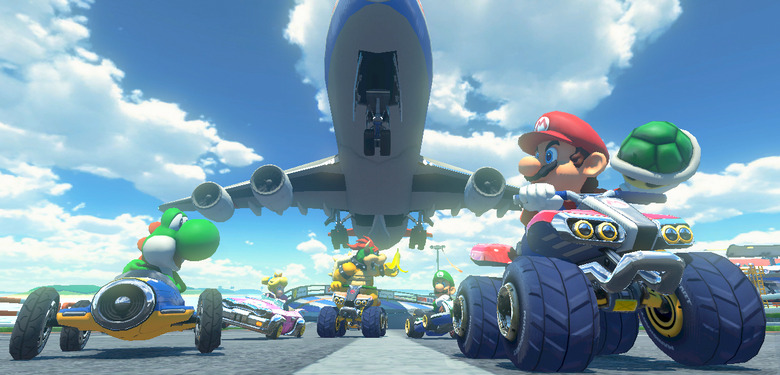 If you grew up with an older sibling and a video game system, you probably spent a lot of time watching that sibling play the game, because that's just how the hierarchy of household fun works. And if you're anxious to relive the pure fun of watching someone else play a video game, then you'll be happy to hear about this new Mario Kart competition TV series coming to Disney XD this month.
Gamespot reveals that Disney XD is airing a one-off program called Clash of Karts: Mario Kart 8, which will follow eight of "America's best young gamers" as they team up with YouTube personalities like Strawburry 17, Andre, AtomicMari, and SethBling for a Mario Kart competition that will be played in front of a live audience. Don't worry if you have no idea who those YouTube personalities are, because neither do I.
The program airing on Saturday, December 5th, at 8 PM PT/ET promises to capture all of the fun of sitting and watching other people have fun in a video game you could just play yourself with your own friends. That sounds like a real hoot!
In all seriousness though, it's fascinating to see the world of eSports (which is what competitive video gaming is being called) blossom into something exciting. With controversy always weaseling into the world of professional sports, an arena that some people just aren't interested in, it's cool to see fans just as passionate about a different kind of competition that doesn't require steroids, just Monster energy drinks. Hell, ESPN just hired a gaming reporter for their network, so eSports must really be taking off.
Sure, watching someone play video games at home isn't all that thrilling, but I'm sure plenty of excitement builds when you're watching people play on a giant screen in front of you with a big crowd looking on and cheering. Plus, Disney XD already aired an hour-long special from the Nintendo World Championships competitive gaming event that took place in June at E3, and that apparently did well enough to warrant more of that programming. Disney XD senior vice president Marc Buhaj says:
eSports is something that's blossoming, but it's still early days. How it'll be covered for the kids' audience is still something that remains to be seen.
It's early days yet for this kind of programming, but we might be looking at the dawn of a new television craze for the gamers out there. And since Mario Kart 8 has sold nearly 6 million copies on Wii U, making it the best-selling game on the console to date, it's not a bad game to start with. Plus, don't forget Nintendo decided this year that they wanted to try out feature films again, so hopefully we'll see their games coming to movie theaters too.
Are you interested in programs like this Mario Kart competition TV show?