Fox Is Making A 'Rambo' Series, Just In Case You Need More Throat-Ripping On Network Television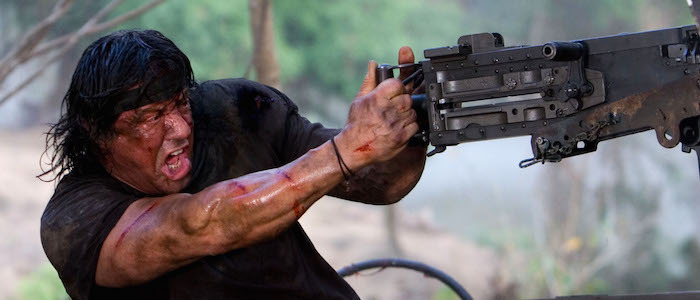 A fifth Rambo movie has been in the works for years, with different iterations of the film cropping up every year or so. At one point, it would have been titled Rambo: Savage Hunt, and would've seen Sylvester Stallone's rogue soldier battling a genetically engineered monster. And then it became Rambo: Last Stand, an Unforgiven-esque tale that would've supposedly seen Rambo taking the fight to Mexican drug cartels. Last year, Stallone doubled down on the drug cartel concept, saying that it would be filmed after Creed and would be titled Last Blood.
Anyway, you should always write Rambo news with dry erase markers because the plans have once again changed. Rambo V may not be dead yet, but it'll now have to compete with Rambo: New Blood, a new television series that will continue the story of John Rambo on Fox. Oh, and Rambo's long-lost son will be along for the ride.
The news arrives via Deadline, who report that Sylvester Stallone has inked a deal to executive produce the series. Their report also says that the series will explore "... the complex relationship between Rambo and his son, J.R., an ex-Navy SEAL," which certainly implies that Stallone will be playing a proper role in the show and won't just be stopping by for a quick guest spot. Writer Jeb Stuart, whose credits include Die Hard and The Fugitive, is attached to the series.
This the first time we've heard about John Rambo having a son, which makes us wonder exactly when this brutal, traumatized soldier found time to father a child. Was it before or after he declared war on a small town and went to prison? Maybe it was in-between that time he went back to Vietnam and single-handedly won the war, and that time he accidentally helped the Taliban seize power in Afghanistan? He certainly wasn't meeting many ladies as a grumpy, grunting hermit living in the jungles of Burma.
But in any case, Rambo has a son and this child followed in his father's footsteps and became a soldier and now they're getting to go on adventures together. Aww. Hopefully, dad will teach little J.R. the art of the throat-rip. If Hannibal could get away with such extreme violence on NBC, then surely Fox will allow this to happen on a regular basis:
There are still many unknowns here. It's possible that Rambo: New Blood will focus almost entirely on J.R., which Stallone only popping in to wish him luck every so often. However, the Deadline report seems confident that this won't be like the Beverly Hills Cop series, which only brought Eddie Murphy back for the ill-fated pilot. Hey, if Evil Dead 4 could become Ash vs Evil Dead, then why can't Rambo V become a series on Fox? If Bruce Campbell can revive his most famous character on television, then Sylvester Stallone can easily follow suit.
Between this and Creed, it looks like Stallone has entered the "passing the franchise torch to the next generation" phase of his career. Hopefully, this show is half as good as the excellent Creed.
But here's the big question: can this new series possibly top John Rambo's previous small screen outing?