'The Angry Birds Movie' Holiday Greeting Introduces The Unbearably Adorable Hatchlings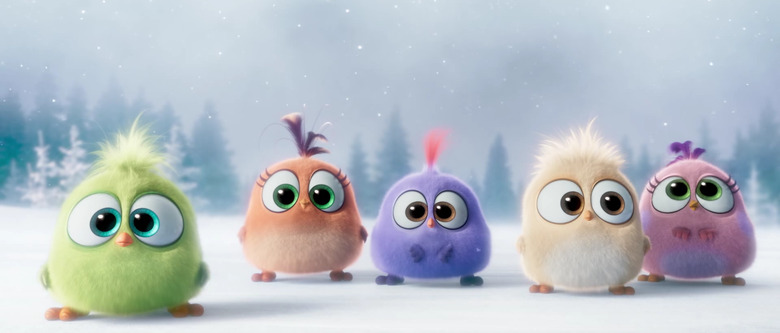 There are people who put off their holiday preparations until the very last second, leaving them to screech into the shopping mall 15 minutes before closing on Christmas Eve. And then there are people who have all their holiday cards sent out and all of their gifts tied up before they even turn their calendars to December. The Angry Birds, it turns out, belong to the latter camp.
Though The Angry Birds Movie won't open for another six months — and though Christmas isn't for another three and a half weeks — Sony Pictures has released an extra-special, extra-adorable holiday teaser featuring the fuzzy little Hatchlings. Watch the Angry Birds Hatchlings teaser after the jump. 
Sony clearly wants these Hatchlings to be the new Minions, or similar — the official YouTube video description suggests that they "will probably become your newest obsession." But they're even more childlike than the Minions, and as a result your tolerance for the Hatchlings will probably vary depending on your tolerance for very small (human) children. If you find them endlessly fascinating and lovable, you're probably already setting aside money for the inevitable Hatchlings plush toy collection. If not, well, you probably turned this clip off about ten seconds in.
The Angry Birds Movie slingshots into theaters May 20, 2016. The voice cast also includes Maya Rudolph, Kate McKinnon, Tony Hale, Keegan-Michael Key, and Peter Dinklage. Clay Kaytis and Fergal Reilly directed.
The movie takes us to an island populated entirely by happy, flightless birds – or almost entirely. In this paradise, Red (Jason Sudeikis – We're the Millers, Horrible Bosses), a bird with a temper problem, speedy Chuck (Josh Gad in his first animated role since Frozen), and the volatile Bomb (Danny McBride – This is the End, Eastbound and Down) have always been outsiders. But when the island is visited by mysterious green piggies, it's up to these unlikely outcasts to figure out what the pigs are up to.