'Ride Along 2' Trailer: Ice Cube And Kevin Hart Encounter Lamb Burgers And Alligators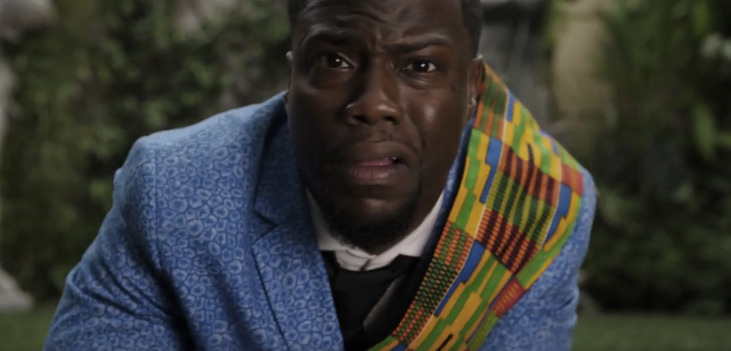 Just a few weeks ago, a new trailer for Ride Along 2 showed Ice Cube and Kevin Hart embarking on another case in Miami. But that wasn't enough for Universal, because they released a new trailer with the must-see Creed over the Thanksgiving weekend. This one has more Ken Jeong, lamb burgers, and an alligator. That sounds wacky, right?
Watch the new Ride Along 2 trailer after the jump.
It's no coincidence that the Redfoo song "Let's Get Ridiculous" is used in this trailer, because that's exactly what's on display for the comedy sequel. How has Kevin Hart learned nothing from his first go-round with Ice Cube? And how has the latter gone cold on the prospect of the little guy marrying his sister? What did he think was going to happen after giving his approval of just dating her in the first movie?
Anyway, Ken Jeong and Olivia Munn are in the mix this time. Jeong gets Hart into a bit of a spot with an alligator while Cube tries a lamb burger for the first time. Meanwhile, it looks like Munn saves Cube from a big car explosion, one of the many problems that the brothers-in-law cause when they arrive in Miami to take down the drug lord played by Benjamin Bratt.
Comedy sequels are hard to crack, mostly because they tread the exact same territory as the first film. The old saying is, "If it ain't broke, don't fix it," but the first one wasn't exactly a well-oiled comedy machine, so it could have used some repairs for the sequel. It just seems like it doesn't succeed where the similar comedy 21 Jump Street did, which used the comedy sequel formula to its advantage instead of simply adhering to it. But it's at least nice to see Cube and Hart getting to take the lead in a movie like this instead of two more handsome white guys.
The movie hits theaters on January 15th, 2016.
Kevin Hart and Ice Cube lead the returning lineup of Ride Along 2, the sequel to the blockbuster action-comedy that gave us the year's most popular comedy duo. Joining Hart and Cube for the next chapter of the series are director Tim Story, as well as Cube's fellow producers—Will Packer, Matt Alvarez and Larry Brezner—who will produce alongside Cube.