The Touching Story Of R2-KT: The 'Star Wars' Droid Created As Tribute To A Young Girl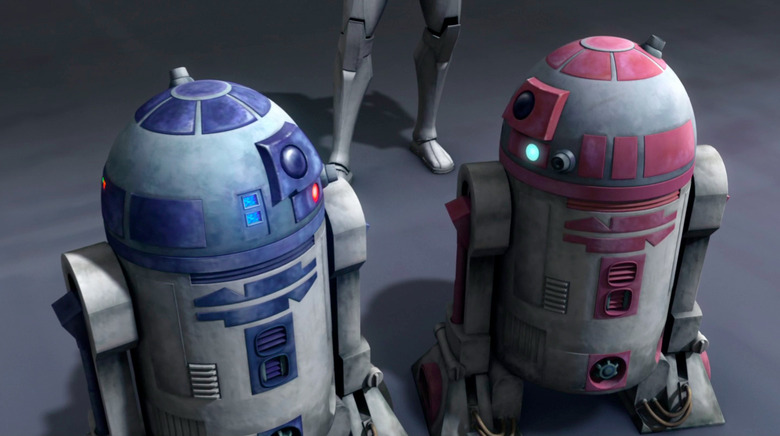 If you didn't get enough crying out of your system while your family was visiting this past holiday weekend, we've got something that might get the waterworks flowing for you.
Over the past couple years, Star Wars fans may have noticed a little pink astromech droid called R2-KT popping up here and there. While upon first inspection the pink droid just seems like an obvious female counterpart to the blue R2-D2, there's actually a very touching story behind how this droid came to enter the Star Wars universe.
Katie Johnson was diagnosed with an inoperable brain tumor in 2004, and her parents were shocked to learn that she only had months to live. Johnson grew up with Star Wars all over because her father was Albin Johnson, one of the founders of the 501st Legion, the real-life manifestation of an elite unit of Clone Troopers who eventually became part of the Stormtrooper corps and came to be called Vader's Fist. And so Johnson wanted to make his daughter comfortable in her last months of life with a little comfort from Star Wars.
He commissioned the R2 builder's club (who worked on the droids for The Force Awakens) to create an R2 astromech droid to accompany her in her final days. But the timetable for the droid's creation wasn't going to arrive in time, so another fellow droid builder named Andy Schwartz simply decided to paint one he had already created for himself in Katie's favorite color, pink.
When the little droid arrived, she gave it a hug and enjoyed her company up until she passed away on August 9th of 2005, prompting a great outpouring of support from the Star Wars community, including the original commissioned droid from the R2 builder's club and a limited edition action figure of the droid that came to be called R2-KT.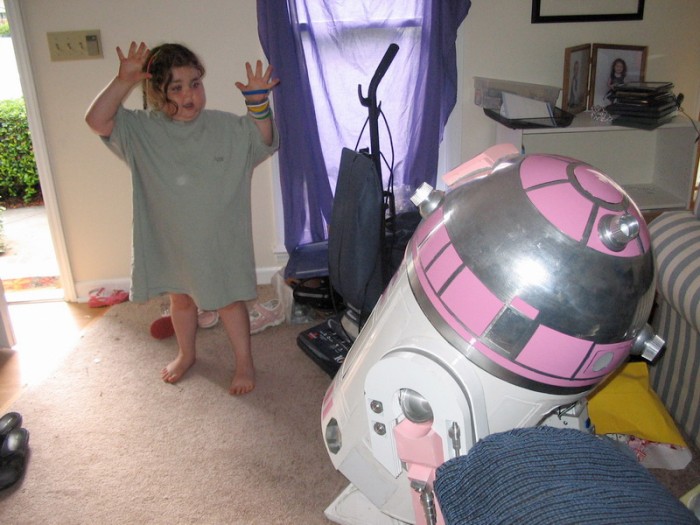 But the droid was given a big thrust into the Star Wars universe when Clone Wars showrunner Dave Filoni heard the story behind the droid and brought her into the animated series under the name QT-KT, a droid owned by Jedi Aayla Secura. But now R2-KT will have a stronger presence in the galaxy as Geeks Speak and Albin Johnson have revealed that she will appear in Star Wars: The Force Awakens this December. In an e-mail from Johnson, he explains:
"Mary Franklin of Lucasfilm asked me to pitch the idea to Kathleen Kennedy (Lucasfilm President), and after hearing the story of our pink ambassador of hope Lucasfilm requested we ship her off to London early last year. Quick repairs were made and off she went for six months," Johnson says in his email. While he could not disclose just when we could expect to see the pink droid, he was assured that she will definitely appear."
So when you head off to see Star Wars: The Force Awakens next month, keep an eye out for R2-KT and try not to let your friends see you crying. Of course, you may all be crying since you'll be at the first showing of The Force Awakens, so maybe no one will be able to tell.
Thanks to io9 for all the details on the story behind R2-KT.