'Grease: Live' Teaser: Julianne Hough Takes Over For Olivia Newton-John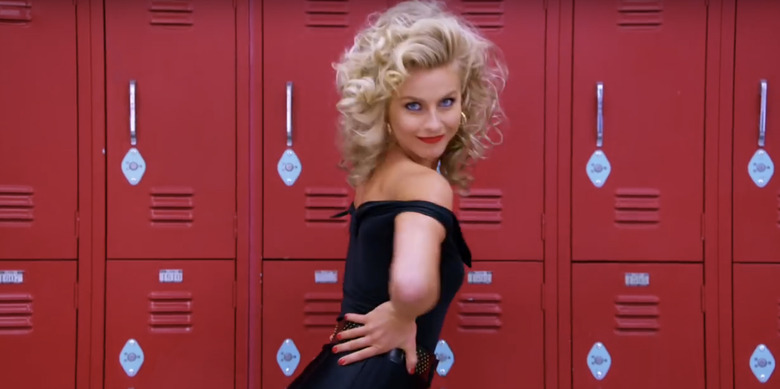 Networks are all about turning iconic musicals into live broadcast events. NBC already delivered Peter Pan with Alison Williams as the title Neverland defender and Christopher Walken as the weirdest Captain Hook, and this coming week they've got a live version of The Wiz with Queen Latifah, Common, Uzo Aduba and more. But early next year, Fox is getting in the live musical game too.
Grease: Live will bring what Fox is calling "America's favorite musical" to air, and they've got a young cast geared towards the tween audience to introduce the classic to a new generation. Aaron Tveit (Les Miserables, Gossip Girl) and Julianne Hough (Rock of Ages) take the roles of Danny and Sandy (played by John Travolta and Olivia Newton-John in the original version), and the first promo for the live musical shows them off with some other odd casting choices for the supporting characters.
Here's the Grease Live teaser from Fox:
Honestly, Julianne Hough seems perfectly cast in the role of Sandy, and if you need some more convincing, here's a little gallery showing her in both her more conservative outfits and her sexier wardrobe from the musical's iconic finale:
And yes, that's High School Musical star Vanessa Hudgens as Rizzo, which should get all the Disney Channel kids to tune in. But the real peculiar choice is having Carly Rae Jepsen as Frenchy. We haven't seen her act yet, so it's hard to pass judgment, but she just seems horribly miscast to me already. Otherwise, Keke Palmer (Scream Queens) is also part of the cast as Marty Maraschino (the role originated by Dinah Manoff) along with Carlos PenaVega as Kenickie (played by Jeff Conaway in the original).
Grease was introduced to me at a young age, so I have a fondness for the original 1978 film starring John Travolta and Olivia Newton-John. To me, this just feels like a Glee version of Grease, which doesn't sound all that appealing to me. Hough is a decent enough musical talent, and she looks great as Sandy, but there's something about this that just doesn't feel right to me. But I suppose it's better than a big screen remake (for now).
Grease: Live airs on January 31st on Fox.
Featuring a young ensemble cast, 'Grease Live' will reintroduce and reimagine some of the show's most memorable moments, great music and timeless love story to an entirely new generation. In this live television adaptation of the musical classic, the beginning of senior year means the end of Danny and Sandy's summer romance – until Sandy unexpectedly transfers to Danny's high school. Can Danny maintain his bad-boy image as the coolest member of the T-Birds, once he and Sandy start going together, and can Sandy remain a good girl after she joins the Pink Ladies? With their friends Rizzo and Kenickie pulling them in different directions, it's up to Danny and Sandy to stay hopelessly devoted as they make their way from Rydell High to a new frontier.
Acclaimed film, television and theater producer Marc Platt ("Wicked," "Into the Woods") will executive-produce, Tony Award-nominated director Thomas Kail ("Hamilton," "In the Heights") is the director overseeing the stage direction and Alex Rudzinski ("Dancing with the Stars") will serve as the live television director. Broadway writers Robert Cary ("Anything but Love," "Ira & Abby") and Jonathan Tolins ("Buyer & Cellar," "The Last Sunday in June") will write the LIVE television adaptation.