Star Wars Bits: New Planets, Soundtrack Listing, Spielberg Has Seen 'The Force Awakens' Three Times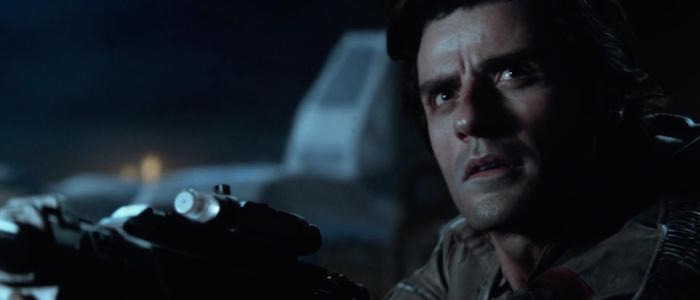 Welcome back to Star Wars Bits, your regular source of news from a long time ago, in a galaxy far, far away. In today's jam-packed edition:
A galactic map of the Star Wars universe.
A look at some of the new planets being introduced in The Force Awakens.
Steven Spielberg has already seen the new movie...three times.
Mads Mikkelsen chats about Rogue One: A Star Wars Story.
The complete soundtrack listing for the Force Awakens Soundtrack.
Google will now translate your words into Aurebesh.
A dive into the original Star Wars novelization.
A look at some awesome Stormtrooper toys that will break your wallet.
One of the most most fun aspects of any fictional world or universe is the map that comes with it. You can spend hours poring over a map of Middle-Earth and Westeros, learning the geography of these fictional lands and how one area leads to another. Now, a new map of the Star Wars galaxy, created for the upcoming The Force Awakens Visual Dictionary and premiering in Empire eagazine, has arrived online. Have you ever wanted to chart a road trip from Jakku to Dagobah to Tatooine? Here you go.
Here is the new planet map from @empiremagazine #starwars #theforceawakens pic.twitter.com/0uu3yZr6RZ

— That Junkman (@ThatJunkman) November 26, 2015
As you see, that map is a mixture of old and new names, with Endor and Naboo sharing space with the likes of Takodana, D'Qar, and Hosnian Prime. Interestingly, there's even a spot named "Starkiller Base Origin Point," which certainly lends credence to this being the second (third?) coming of the infamous Death Star. Empire was able to shed a little bit of light on some of these new locations, although they're relying on a few new LEGO sets as sources. Then again, LEGO sets have been awfully reliable suppliers of movie details in the past few years. Just ask Avengers: Age of Ultron. Anyway:
Joining Tatooine, Endor, Naboo and the already-revealed desert planet of Jakku are Takodana, D'Qar and Hosnian Prime. Little is known of these mysterious orbs. Takodana will, if LEGO's tie-in kits are to be believed, be the site of a major battle in the movie, while rumours have D'Qar as a resistance base. Hosnian Prime? Well, that's a mystery to all.
Just saw this on sports center.-M #TheForceAwakens pic.twitter.com/ZvbvfKHymz

— The Cantina Cast (@theCantinaCast) November 27, 2015
Meanwhile, new snippet of footage seemingly played on Sports Center and someone managed to snag a screenshot. Yes, that is the Millennium Falcon and a squadron of X-Wings flying toward an unknown planet. Internet scuttlebutt suggests that it may be D'Qar, aka, the home of the secret Resistance base.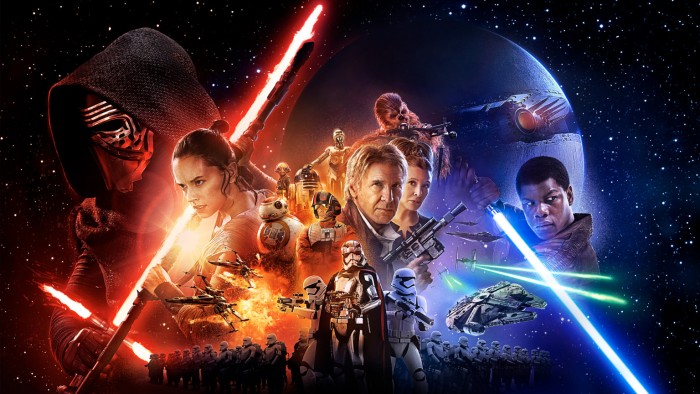 The full track list for the Star Wars: The Force Awakens soundtrack has arrived online and you should view it with caution. While there aren't any actual spoilers on display here (nothing is titled "Kylo Ren Kills BB-8"), it does hint at the film's basic structure. So feel free to look at your feet and scroll past it. In any case: Hey! A new John Williams Star Wars score is right around the corner!
1. Main Title and the Attack on the Jakku Village
2. The Scavenger
3. I Can Fly Anything
4. Rey Meets BB-8
5. Follow Me
6. Rey's Theme
7. The Falcon
8. That Girl with the Staff
9. The Rathtars!
10. Finn's Confession
11. Maz's Counsel
12. The Starkiller
13. Kylo Ren Arrives at the Battle
14. The Abduction
15. Han and Leia
16. March of the Resistance
17. Snoke
18. On the Inside
19. Torn Apart
20. The Ways of the Force
21. Scherzo for X-Wings
22. Farewell and the Trip
23. The Jedi Steps and Finale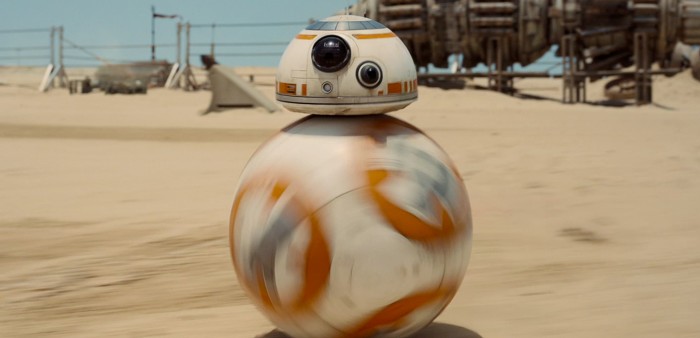 Entertainment Weekly has put together a fun little video exploring the history of BB-8, including how the cutest droid in the Star Wars universe was designed, its ever-fluctuating gender, and the many secret gadgets hidden inside its body. Most importantly, we are given some cool details on its personality. Apparently, this adorable little thing is slightly treacherous and should not be trusted.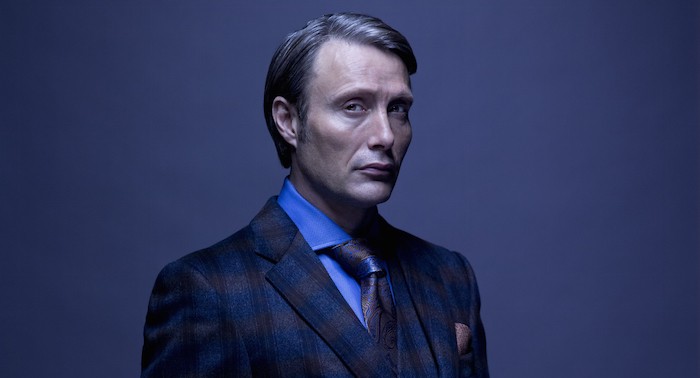 While interviewing Mads Mikkelsen about the third season of Hannibal (which is just about to hit Blu-ray and DVD), IGN talked to the fantastic Danish actor about his mysterious role in Rogue One: A Star Wars Story. Although he didn't say much, he does confirm that this will be a different view of the Star Wars universe, filtered through director Gareth Edwards:
I believe that is true to a degree. It's still the Star Wars universe, but there is... There might be a personal take on that from Gareth [Edwards], as well. And it should be like that, right? And tomorrow you will find me dead in a river somewhere because I said that.
When asked if it's surreal to be in a Star Wars movie, Mikkelsen gave the kind of response that every actor should have when it comes to acting in big properties like this:
It is a big thing, but so was Hannibal and so was Bond. The thing is, we don't go to change the "thing" about it. We address it as a job. We focus on the character and start working. We also are aware that it's the Star Wars universe. We are aware. But that hat, we can't wear all the time. We have to focus on each individual scene. So I think this is one of these things that will dawn on you later when you actually see the film. In the midst of it, it's a different thing.
Not fluent in 6 million forms of communication? This might help: https://t.co/a5zlzC8HFS #ChooseYourSide pic.twitter.com/8Dph0yaCWP

— Google (@Google) November 25, 2015
Google Translate will now translate your boring language of choice into Aurebesh, the written language of the Star Wars universe. It's not quite a universal translator, but it'll do. For now. Maybe Apple will build an X-Wing to show up Google.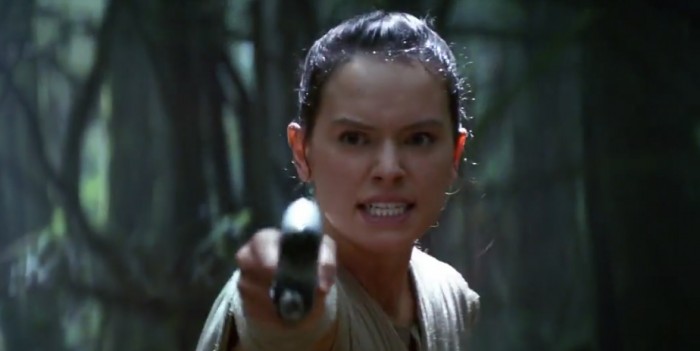 A new interview with Star Wars: The Force Awakens star Daisy Ridley (aka, Rey) has all of the usual quotes you'd expect...but it also features her saying that legendary director Steven Spielberg has already seen the movie three times:
"I haven't seen the film yet – I kinda want to, and I kinda don't – Steven Spielberg's seen it three times, as he told me when I met him!"
C'mon, Mr. Spielberg! Save some movie for the rest of us. Anyway, Ridley also recounted her first day on set, where she nearly had a panic attack when here performance wasn't up to snuff:
"I was petrified.  I thought I was gonna have a panic attack on the first day ... JJ [Abrams] ... he probably doesn't remember telling me that my performance was wooden.  This was my first day! And I honestly wanted to die.  I thought I was gonna cry, I couldn't breathe."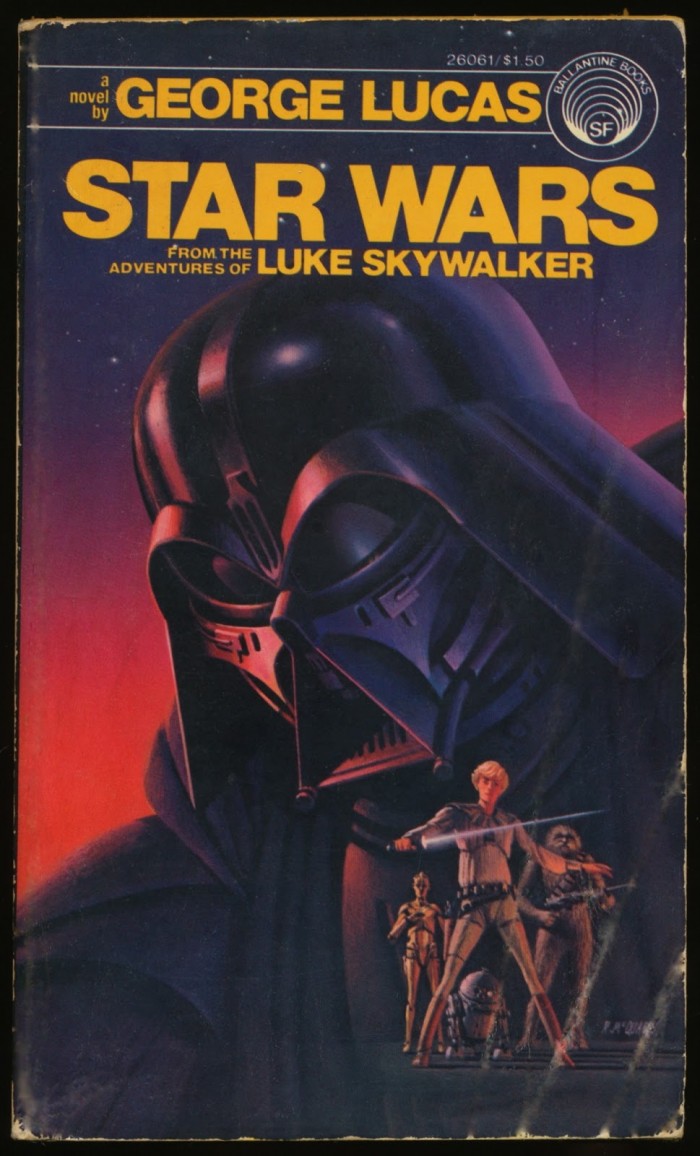 Tor has published a terrific look back at the original Star Wars novelization, which had George Lucas' name on the cover but was actually written by genre veteran Alan Dean Foster. Written before the movie was realized and before the direction of the sequels was finalized, this novel is at constant odds with the established Star Wars universe...although it pre-dates almost all of it. A great sample:
On the other hand, we've got maximum awkwardness from Foster clearly believing that Luke and Leia were meant for each other. Luke's crush is given far too much attention, making everything an extra layer of gross. It's like Star Wars in an alternate universe, where different aspects of the story were meant to come true. On the positive end, Foster actually bothers to detail how little consideration droids are given by humans, with Luke marveling at how much personality Threepio has, and feeling surprised at how attached he's growing to the droid. He also notes how reverently Artoo is handled by Rebels technicians when they take him away to unearth the Death Star plans, the first time he has ever witnessed a robot being handled with such care by men. In that way the book manages to touch on one of the more uncomfortable aspects of the universe that's never well-addressed.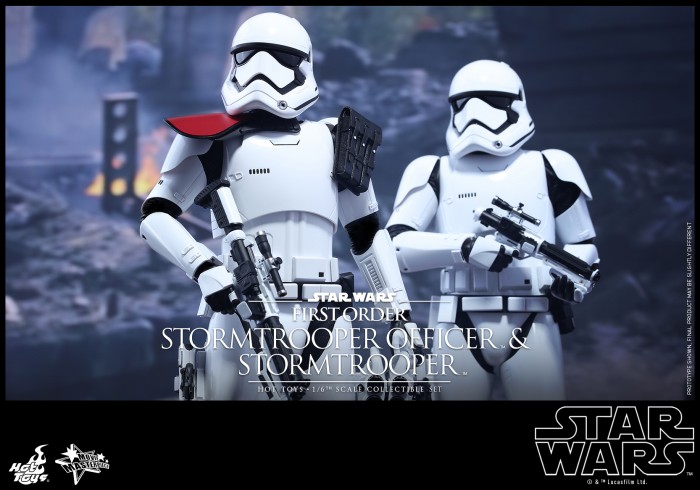 If you're ready and willing to live on Ramen and tap water for a few months, Hot Toys has the Stormtroopers you're looking for. This toys will set you back an arm and a leg, but man, they'd sure look great on your shelf, looming large over the rest of your toys and figures. The only problem is that these guys won't be truly complete unless you also buy the Captain Phasma figure, but then you'd have to skip a mortgage payment and nobody wants to do that.
If you want something far less traditional, Hot Toys has also revealed a new "Copper Chrome" Stormtrooper. You know, just in case you want an Imperial solder who looks like he was made out of pennies. Here's the official description of this "for serious collectors only" piece:
The Stormtrooper armor has always been one of the most beloved designs in the classic Star Wars trilogy! With that in mind, Hot Toys is adding a vintage touch to this iconic armor and is excited to present today, a special shiny copper chrome version of the 1/6th scale Stormtrooper collectible figure!
This copper chrome colored Stormtrooper is for diehard Star Wars collectors and is only available in selected markets as an Asia Exclusive item. The rare collectible figure is specially crafted based on the image of Stormtrooper in Star Wars featuring the eye-catching shiny copper chrome painted armor and helmet, a blaster rifle, and a hexagonal figure stand. This distinctively colored Stormtrooper will surely stand out in your prized Star Wars collection!"
That's all for this edition of Star Wars Bits. Stay tuned for more soon.