'The Conjuring 2' Set Photos Show Off An English Setting And Patrick Wilson's Mighty Sideburns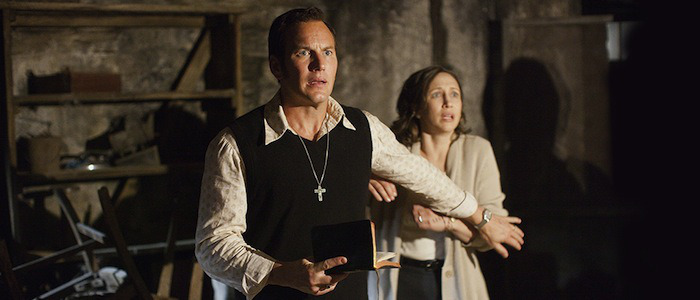 Director James Wan has posted a new batch of photos from the set of his sequel to The Conjuring and now we can't help but wish this movie was titled An American Exorcist Couple in London.
Dumb jokes aside, these images do give us a tiny taste of the upcoming sequel, which is actually called The Conjuring 2: The Enfield Poltergeist and is set in England in the mid-1970s. Originally shared on Wan's Twitter and Instagram pages, these photos show off the cast in period costume, Marylebone Station transported a few decades into the past, and even a tease of the film's Christmastime setting.
You can check out the Conjuring 2 photos for yourself after the jump.
Unlike the Annabelle spin-off (which isn't as bad as the reviews suggest), The Conjuring 2: The Enfield Poltergeist is a direct follow-up to 2013's genuinely fantastic The Conjuring. Like its predecessor, the sequel follows real-life paranormal investigators Ed and Lorraine Warren (Patrick Wilson and Vera Farmiga) as they investigate the dark corners of the world, poking and prodding the demonic and the ghostly and son on. Naturally, their "true" adventures have been given a cinematic sheen, but the whole "based on true events" angle is always fun. Plus, it allows this series to be set in the '70s, so everyone gets to rock killer mustaches and wear cool coats.
Although the exact details of the sequel remain under wraps, the title implies that the film will tell the story of a haunted council house that may or may not have been plagued by demons. The story was a tabloid sensation in its day and it certainly sounds like a solid foundation for a horror movie.
The first of Wan's photos finds the Furious 7 and Insidious director posing with Wilson, Farmiga, and British actor Simon McBurney, who was most recently seen in Mission: Impossible – Rogue Nation earlier this summer. Check out those '70s fashions! Weep, for your sideburns will never match Wilson's!
Other photos offered a wide view of the set, which has been dressed for the appropriate era and filled with vehicles and extras who look like they belong. Previous photos from the set offered some very familiar images, so it's exciting to see that the sequel is literally taking these characters to new territory:
And yes, The Conjuring 2: The Enfield Poltergeist is going to be a Christmas movie. Go ahead and make a mental note to add this to the stack of "holiday movies that aren't actually holiday movies," right under Die Hard.
The Conjuring 2: The Enfield Poltergeist is set to open on June 10 2016. A tip of that hat to Coming Soon for initially rounding all of these up.