'Gremlins 3' May Pull A 'Jurassic World' And Follow The Same Story 30 Years Later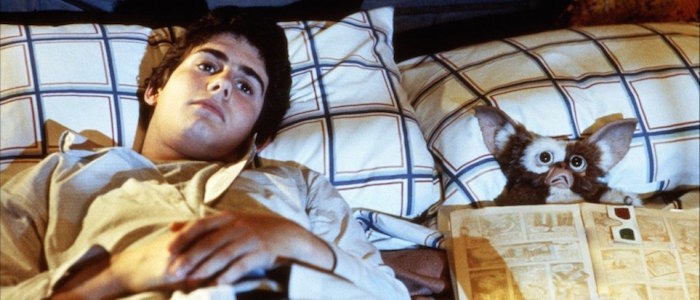 We've been hearing rumors of Gremlins reboot for quite some time now and while a significant portion of movie fandom would rather the Powers That Be leave this one alone, the massive success of Jurassic World seems to have galvanized everyone involved. "If one beloved franchise can get away with a sequel that is also a reboot set decades after the original film, why not Gremlins?" is the line of thinking on display.
The latest news on the project comes from Zach Galligan, the star of the first two movies. You should grab the requisite pinch of salt before reading his new statements on the subject of Gremlins 3 – this would be like asking Mark Hamill about the plot of a new Star Wars movie in 2012.
Speaking at a Q&A following a screening of the original 1984 Gremlins at London's Prince Charles Cinema (via Games Radar), Galligan says that the new movie, which hired a new writer earlier this year, won't be a remake. It will be a proper sequel to the first two movies and you can thank Chris Columbus for that:
"It's not going to be a reboot. It will not be a remake in any way, shape, or form. Chris Columbus has come out and said that the first film is very near and dear to his heart and as long as he is alive it will never be remade."
Columbus, who wrote the original Gremlins before becoming one of the most in-demand directors of the '90s and '00s, is producing this "rebootquel," which Galligan claims will follow the Jurassic World template:
"So the only thing they will be – and apparently are going to be – doing is something along the lines of like Jurassic World, where it will be 30 years later."
This actually aligns with news from well over a year ago. The Jurassic World namedrop is new, but the whole "30-years-later" sequel thing is something we heard way back in 2014. With this project constantly dying and being resurrected, it can be hard to track exactly what's going on with it and what it's supposed to be. In any case, this is probably the best case scenario. At the very least, a proper sequel that pushes the Gremlins story forward is instantly a better idea than a remake that treads on familiar ground.
Columbus has been hesitant about a Gremlins remake/sequel/reboot for years, but he claims that the kernel of this new movie got him to throw caution to the wind and dive back into this world. Back when he gave this quote, the inspiration was more Star Wars: The Force Awakens than Jurassic World:
"I am involved. Initially I remember back in '84-'85 when they approached me and said, do you wanna write the sequel and I said, this is before the obsession with franchises. So my feeling was no. We've told the story, that was that's 1980's thinking. And then suddenly all these years later, we were approached with an idea that really sounded like an interesting version. It's not a remake of the movie at all. It's a, it's just a reinvention of it."
One thing we do know is that original director Joe Dante probably won't be involved. Which is a shame – his manic, nasty energy is what gave the original movie its life-force. It should also be noted that his Gremlins 2: The New Batch is one of the most insane movies ever made and a masterpiece of genre deconstruction. It also feels like some kind of definitive final statement for this entire franchise. How do you top the Gremlins actually destroying the film you're watching and interrupting the narrative so they can do shadow puppets for a few minutes? The whole movie feels like Dante wringing every last idea out of this concept. "You don't need a Gremlins 3!" laughs Gremlins 2.
Without Dante at the helm, is a Gremlins movie really a Gremlins movie? That's probably the second most asked question Columbus and his team face every day, right after "Are we sure this is a good idea?"