Cool Stuff: Han Solo In Carbonite Wall Sculpture For Your Desk, Wall Or Tiny Palace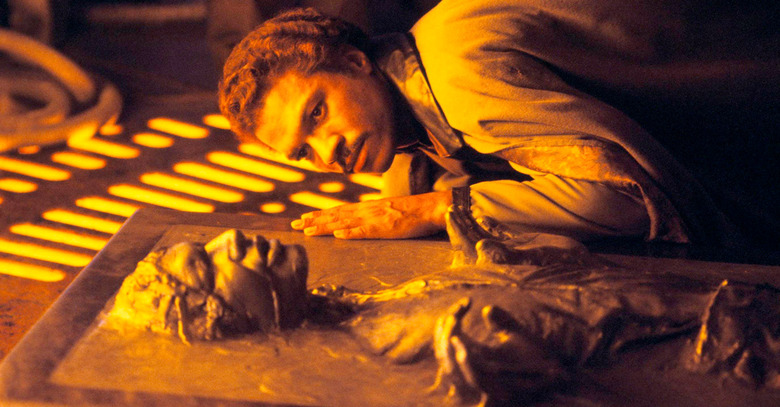 You'll like Captain Solo right where he is with this geeky new Star Wars wall or desk decoration featuring Han Solo in carbonite. This new item is the perfect decoration for your seedy palace where you deal with bounty hunters and watch Twi'lek girls dance. Or it's probably good for your office too. Whatever works.
Check out the Han Solo in carbonite sculpture after the jump!
Check out a couple images of the Han Solo in carbonite sculpture right here:
Here's the official product description:
Everyone could use a bit of Han Solo. The adventure he brings is so much fun. But, being a galactic smuggler, sometimes he just can't sit still. Thank the Force that someone froze his butt (and the rest of him) in carbonite. Now Han has all day to listen to our stories and schemes and Vogon poetry.
This Han Solo in Carbonite Novelty Desk Light has a stand so it can hang out on your desk but the stand is also removable so that you can hang it flush against a wall if you'd prefer. It has red LED lights on the front, which you can turn off with a switch if you don't want to drain the batteries.
The item is officially licensed Star Wars merchandise, measuring 18" tall x 10 1/2" wide x 2" deep. Plus those red LED lights on the bottom almost give it that effect like the carbonite chamber is being deactivated.
The Han Solo in carbonite sculpture is available for purchase right now at ThinkGeek for $49.99, which isn't bad when you consider that a real life-size Han Solo in carbonite would cost you thousands of dollars.