'Pride And Prejudice And Zombies' Trailer: We Are All Fools In Love... And In The Zombie Apocalypse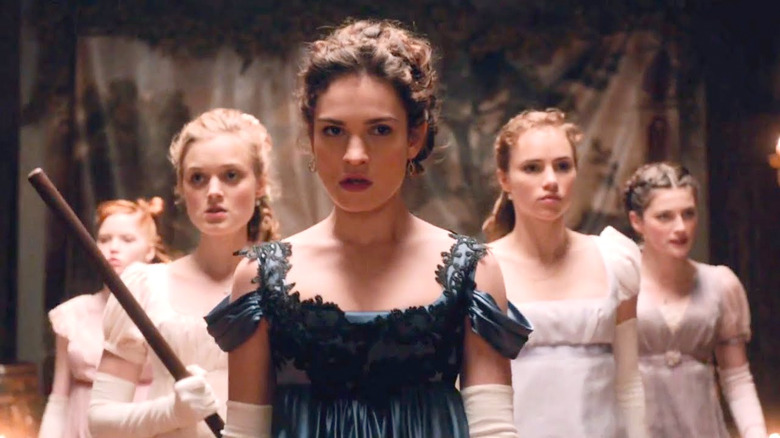 Pride and Prejudice and Zombies is such a preposterous concept that it's hard to believe it was published as a novel before it became a feature film. But here we are: a movie adaptation of Seth Grahame-Smith's parody is on the way and a new trailer has arrived to once again prove its existence. You just know that this whole endeavor has Jane Austen rolling over in her grave, which, considering the subject matter, is probably appropriate.
Watch the new Pride and Prejudice and Zombies trailer after the jump.
As the title implies, Pride and Prejudice and Zombies is essentially a loose retelling of Austen's Pride and Prejudice except, you know, set during the post-apocalypse. It's still set in early 19th century England and still focuses on the burgeoning romance between Elizabeth Bennet and Mr. Darcy, but there are now hordes of the undead hanging around, making courtship a bit more, for lack of a better term, interesting.
This entire project is odd enough to warrant our curiosity, but it does seem to missing the entire point of Grahame-Smith's book. The whole joke of Pride and Prejudice and Zombies on the page is that the book is a straightforward retelling of the events of the original novel, with zombies sprinkled in to shake things up here and there. The whole thing is one deadpan joke, an exacting recreation of something iconic that just-so-happens to have this bizarro twist.
This trailer (as well as the previous one) seems to have ejected the straight faced comedy in favor of making Resident Evil for 1813. There's nothing wrong with this just being a cool action movie (and it could very well be just that), but a proper riff on the source material would see this thing being shot like a traditional, sweeping period piece romance...just with zombies. The final movie could look and feel different than this trailer, but it's already starting to seem like a missed opportunity.
This film's road to the big screen has been a rocky one, with actors like Natalie Portman and directors David O. Russell, Mike White, Neil Marshall, Mike Newell, and Matt Reeves all turning down the chance to to participate. In the end, Burr Steers (of Igby Goes Down and 17 Again) took the gig, directing a cast that includes Lily James, Sam Riley, Jack Huston, Lena Headey, and Charles Dance. Go ahead and drink if your pop culture bingo card includes "Game of Thrones cast reunions in other projects."
Pride and Prejudice and Zombies opens on February 5, 2016.